Children of Cancer Patients "CLIMB®" to New Heights Thanks to Unique Art Program
The Cancer Institute of New Jersey Social Work Department Gears up for Latest Session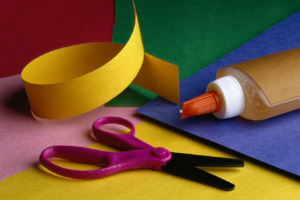 New Brunswick, N.J.– It is often said that cancer affects an entire family, not just the individual who is diagnosed. Because of that reality, the Social Work Department at The Cancer Institute of New Jersey (CINJ) is gearing up to offer the fourth installment of the CLIMB® (Children's Lives Include Moments in Bravery) program, which encourages children and teens to use art to help identify and communicate difficult feelings. The latest offering will begin in early March. CINJ is a Center of Excellence of the UMDNJ-Robert Wood Johnson Medical School.
Three years ago, CINJ joined a national movement led by The Children's Treehouse Foundation, to focus on the emotional needs of children going through the cancer journey with their families. As a result, CINJ has been able to offer the CLIMB® program, which enables youngsters aged five to 18 to express their feelings through arts and crafts projects. A concurrent parent group also is held to help adults talk to their children about their diagnosis.
Linda Mathew, MSW, LSW, OSW-C, is a social worker at CINJ who received special training to facilitate the sessions. "There are many challenges faced by children and teens when they have a parent who is battling cancer," notes Mathew. "By participating in the CLIMB® program, these youngsters find the experience to be a beneficial outlet, since they also are connecting with other children who are facing the same challenges."
The next session of CLIMB® will run for a six-week period from March 3 to April 7 each Wednesday from 5:30 to 7:00 p.m. in the CINJ Learning Resource Room (195 Little Albany Street, New Brunswick). The program is offered at no cost to participants, but registration is required and can be done by calling 732-235-8799.
Additional information on the various programs offered through the CINJ Social Work Department can be found on the CINJ Web Site.
About The Cancer Institute of New Jersey
The Cancer Institute of New Jersey is the state's first and only National Cancer Institute-designated Comprehensive Cancer Center, and is dedicated to improving the prevention, detection, treatment and care of patients with cancer. CINJ's physician-scientists engage in translational research, transforming their laboratory discoveries into clinical practice, quite literally bringing research to life. The Cancer Institute of New Jersey is a center of excellence of UMDNJ-Robert Wood Johnson Medical School. To support CINJ, please call the Cancer Institute of New Jersey Foundation at 1-888-333-CINJ.
The Cancer Institute of New Jersey Network is comprised of hospitals throughout the state and provides a mechanism to rapidly disseminate important discoveries into the community. Flagship Hospital: Robert Wood Johnson University Hospital. Major Clinical Research Affiliate Hospitals: Carol G. Simon Cancer Center at Morristown Memorial Hospital, Carol G. Simon Cancer Center at Overlook Hospital, and Jersey Shore University Medical Center. Affiliate Hospitals: Bayshore Community Hospital, CentraState Healthcare System, Cooper University Hospital*, JFK Medical Center, Mountainside Hospital, Raritan Bay Medical Center, Robert Wood Johnson University Hospital at Hamilton (CINJ at Hamilton), Saint Peter's University Hospital, Somerset Medical Center, Southern Ocean County Hospital, The University Hospital/UMDNJ-New Jersey Medical School*, and University Medical Center at Princeton. *Academic Affiliate