Outreach Director at The Cancer Institute of New Jersey Tapped for National Program
Perth Amboy Resident One of Six Selected throughout the Country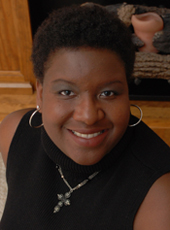 New Brunswick, N.J. – Kiameesha Evans, MPH, MCHES, program director of the Office of Community Outreach at The Cancer Institute of New Jersey (CINJ), has been selected to take part in a unique pilot program for cancer control practitioners through the National Cancer Institute (NCI). CINJ is a Center of Excellence of UMDNJ-Robert Wood Johnson Medical School.
As one of only six participants selected nationwide, the Perth Amboy resident is taking part in The Research to Reality (R2R) Mentorship Program for one year. The R2R Program aims to strengthen the ability of public health professionals to effectively navigate and execute evidence-based cancer control and prevention interventions in community or clinical settings under the guidance of a mentor.
As a mentee, Evans will work closely with Evelyn Gonzalez, MA, from Fox Chase Cancer Center on the implementation and evaluation of the Body & Soul Program in several New Jersey houses of worship.
Body & Soul is an evidence-based program that provides important health information to the community. Evans is working closely with participating clergy to provide them with a tool kit designed to build awareness of healthier living within their congregations. Through regular meetings, these 'ambassadors' will be provided with resource materials such as healthy recipes and exercise DVDs to share with congregants, in order to stress the benefits of such things as increased fruit and vegetable intake and incorporating exercise into one's daily routine.
In addition to receiving mentor support, Evans also will receive technical assistance and training from the NCI.
About The Cancer Institute of New Jersey
The Cancer Institute of New Jersey (www.cinj.org) is the state's first and only National Cancer Institute-designated Comprehensive Cancer Center dedicated to improving the detection, treatment and care of patients with cancer, and serving as an education resource for cancer prevention. CINJ's physician-scientists engage in translational research, transforming their laboratory discoveries into clinical practice, quite literally bringing research to life. To make a tax-deductible gift to support CINJ, call 732-235-8614 or visit www.cinjfoundation.org. CINJ is a Center of Excellence of UMDNJ-Robert Wood Johnson Medical School. Follow us on Facebook at www.facebook.com/TheCINJ.
The CINJ Network is comprised of hospitals throughout the state and provides the highest quality cancer care and rapid dissemination of important discoveries into the community. Flagship Hospital: Robert Wood Johnson University Hospital. System Partner: Meridian Health (Jersey Shore University Medical Center, Ocean Medical Center, Riverview Medical Center, Southern Ocean Medical Center, and Bayshore Community Hospital). Major Clinical Research Affiliate Hospitals: Carol G. Simon Cancer Center at Morristown Medical Center, Carol G. Simon Cancer Center at Overlook Medical Center, and Cooper University Hospital. Affiliate Hospitals: CentraState Healthcare System, JFK Medical Center, Mountainside Hospital, Robert Wood Johnson University Hospital Hamilton (CINJ Hamilton), Somerset Medical Center, The University Hospital/UMDNJ-New Jersey Medical School*, and University Medical Center at Princeton. *Academic Affiliate