New Research Instrument Will Allow CINJ Researchers Detailed Look at Cancer Cell Metabolism
$50,000 Gift from Val Skinner Foundation Will Help Purchase Latest Energy-Measuring Technology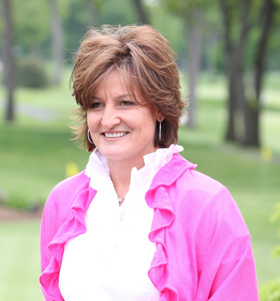 New Brunswick, N.J.– Researchers at The Cancer Institute of New Jersey (CINJ) have received a generous gift from the Val Skinner Foundation, which brings them a step closer to acquiring a key piece of equipment designed to analyze the mechanisms by which energy is generated within cancer cells, enabling those cells to survive and grow. The Foundation recently contributed $50,000 to the Cancer Institute of New Jersey Foundation toward the purchase of an XF extracellular flux analyzer system, known as the "Seahorse." CINJ is a Center of Excellence of UMDNJ-Robert Wood Johnson Medical School.
Cells take up food and break it down to sustain their energy needs by a process called metabolism. In normal cells this process is kept in check by mechanisms that control their food uptake and utilization. Unfortunately cancer cells rewire their metabolism to overcome this regulation, which helps them grow and divide in an uncontrolled manner. The laboratory of CINJ Associate Director for Basic Science Eileen White, PhD, has a focus on understanding this metabolic rewiring so that more effective cancer treatments can be identified and developed. In order to further understand how cancer cells rewire metabolism, investigators need to measure the energy pathways of cancer cells. The Seahorse is critical for researchers to accomplish this.
"This technology will give us a more precise understanding of the source and amount of energy being spent in the metabolic process. Such knowledge is important, as this energy becomes critical to the life cycle of the cell," said Dr. White. "If we can further determine energy output through the use of the Seahorse, we may be able to identify ways to suppress cancer cell growth and promote cancer cell death. We are grateful to the Val Skinner Foundation for its commitment to our research efforts," said White, who also is an adjunct professor of surgery at UMDNJ-Robert Wood Johnson Medical School and a professor of biology and biochemistry at Rutgers, The State University of New Jersey.
Recent exploration involving the Seahorse by investigators at Iowa State University and Fred Hutchinson Cancer Research Center has been applied toward the study of breast cancer cell lines and has shown that triple negative breast cancers have altered metabolism. White notes that determining the mechanism and exploiting this result are the next steps in the development of new cancer therapies.
This is not the first time the Val Skinner Foundation has given its support to CINJ. Its namesake, Val Skinner, a veteran of the Ladies Professional Golf Association (LPGA), was the driving force behind the creation of CINJ's LIFE (LPGA pros In the Fight to Eradicate breast cancer) Center after losing a young friend to the disease. The LIFE Center is dedicated to the needs of young women and provides them with information about breast cancer education, prevention and treatment. Ms. Skinner has been, and continues to be, a strong supporter of the LIFE Center, which includes her role in the annual LIFE Event charity golf outing, which has raised more than $3 million for LIFE Center programs since its inception in 2002.
Ms. Skinner notes that supporting the basic building blocks of cancer research is also important. "Through continued research come answers which are vital to the cancer fight. Dr. White and her team in collaboration with the laboratories of Drs. Rabinowitz and Coller at Princeton University have made significant advances in the area of cancer cell metabolism -- advances that hold real promise in the development of new and improved cancer therapies. The Val Skinner Foundation is more than pleased to support the work being conducted by these brilliant scientists."

About The Cancer Institute of New Jersey
The Cancer Institute of New Jersey (www.cinj.org) is the state's first and only National Cancer Institute-designated Comprehensive Cancer Center dedicated to improving the detection, treatment and care of patients with cancer, and serving as an education resource for cancer prevention. CINJ's physician-scientists engage in translational research, transforming their laboratory discoveries into clinical practice, quite literally bringing research to life.  To make a tax-deductible gift to support CINJ, call 732-235-8614 or visit www.cinjfoundation.org. CINJ is a Center of Excellence of UMDNJ-Robert Wood Johnson Medical School. 
The CINJ Network is comprised of hospitals throughout the state and provides a mechanism to rapidly disseminate important discoveries into the community. Flagship Hospital: Robert Wood Johnson University Hospital. Major Clinical Research Affiliate Hospitals: Carol G. Simon Cancer Center at Morristown Memorial Hospital, Carol G. Simon Cancer Center at Overlook Hospital, Cooper University Hospital and Jersey Shore University Medical Center. Affiliate Hospitals: Bayshore Community Hospital, CentraState Healthcare System, JFK Medical Center, Mountainside Hospital, Raritan Bay Medical Center, Robert Wood Johnson University Hospital at Hamilton (CINJ at Hamilton), Saint Peter's University Hospital, Somerset Medical Center, Southern Ocean County Hospital, The University Hospital/UMDNJ-New Jersey Medical School*, and University Medical Center at Princeton. *Academic Affiliate