LPGA Veteran Val Skinner and Hereditary Expert to Speak at Lecture on Breast Cancer Genetics
Event for Mothers and Daughters Recognizes Expansion of The Cancer Institute of New Jersey's LIFE Center Services to Somerset Medical Center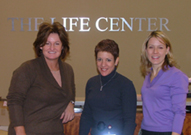 New Brunswick, N.J.– Many people are aware of the connection between eating certain foods and reducing their risk of developing cancer, but some may not realize the important connection between cancer and their genes. To address that topic and recognize the recent expansion of LIFE (LPGA pros In the Fight to Eradicate breast cancer) Center services to Somerset Medical Center, a Cancer Institute of New Jersey (CINJ) Network affiliate, a special lecture designed for mothers and daughters will be presented on the topic of genetics and breast cancer. CINJ is a Center of Excellence of UMDNJ-Robert Wood Johnson Medical School.
The lecture will be held at the Steeplechase Cancer Center at Somerset Medical Center on Wednesday, May 19th. Six-time LPGA Tour champion Val Skinner will share the story of how losing a dear friend and fellow LPGA player to breast cancer at the age of 28 ignited her passion to create awareness about breast cancer among young women. Along with the LPGA, Ms. Skinner founded LIFE and spearheaded the creation of the LIFE Center at CINJ in 2002.  Skinner has been, and continues to be, a strong supporter of the LIFE Center, which includes her role in the annual LIFE Event charity golf outing, which has raised more than $3 million for LIFE Center programs since the Center's inception.
Also present will be Deborah Toppmeyer, MD, director of the LIFE Center and Stacy Goldstein Breast Cancer Center at CINJ and expert in hereditary cancers, to speak about the impact of personal and family medical histories on cancer and the LIFE Center services now available at Steeplechase.
The LIFE Center is dedicated to the needs of young women and provides them with information about breast cancer education, prevention and treatment. The LIFE Center focuses specifically on breast cancer, although genetic testing and counseling for other types of cancer are offered through the HOPE (Hereditary Oncology Prevention and Evaluation) Program.
The new agreement with Somerset Medical Center allows for a CINJ genetic counselor to provide counseling and assessment services at Somerset Medical Center through the HOPE Program.  Results from genetic testing conducted at that site are reviewed by Dr. Toppmeyer, who is also an associate professor of medicine at UMDNJ-Robert Wood Johnson Medical School.
As a dedicated "LIFE Center," an affiliate hospital must be able to provide for physician follow-up to genetic testing as well as psycho-social support for the person being tested.  The facility also must serve as an educational resource to the community on the topic of genetic testing and counseling.
Katrina Losa, RN, director of the Steeplechase Cancer Center at Somerset Medical Center, notes they are pleased to be able to offer this enhanced level of service. "By establishing a LIFE Center at our facility, we are providing an opportunity for individuals to be referred by their community physician for genetic counseling right here in their own backyard.  This convenience may factor into the decision-making process of whether they should even explore counseling," she said.  "Many individuals may not even consider this valuable aspect of the testing process if there is significant travel involved."
Dr. Toppmeyer notes this relationship provides great value to the community. "Individuals who see one of our certified genetic counselors at the many LIFE Center locations throughout our Network of hospitals across the state have the tremendous advantage of gaining access to specially trained, certified genetic counselors close to home."
The lecture will run from 6:00 to 7:00 p.m. and light refreshments will be served. Admission is free, but pre-registration is required by calling 908/203-6234 or going online to www.somersetmedicalcenter.com/events.

About The Cancer Institute of New Jersey
The Cancer Institute of New Jersey (www.cinj.org) is the state's first and only National Cancer Institute-designated Comprehensive Cancer Center dedicated to improving the detection, treatment and care of patients with cancer, and serving as an education resource for cancer prevention. CINJ's physician-scientists engage in translational research, transforming their laboratory discoveries into clinical practice, quite literally bringing research to life.  To make a tax-deductible gift to support CINJ, call 732-235-8614 or visit www.cinjfoundation.org. CINJ is a Center of Excellence of UMDNJ-Robert Wood Johnson Medical School. 
The CINJ Network is comprised of hospitals throughout the state and provides a mechanism to rapidly disseminate important discoveries into the community. Flagship Hospital: Robert Wood Johnson University Hospital. Major Clinical Research Affiliate Hospitals: Carol G. Simon Cancer Center at Morristown Memorial Hospital, Carol G. Simon Cancer Center at Overlook Hospital, Cooper University Hospital and Jersey Shore University Medical Center. Affiliate Hospitals: Bayshore Community Hospital, CentraState Healthcare System, JFK Medical Center, Mountainside Hospital, Raritan Bay Medical Center, Robert Wood Johnson University Hospital at Hamilton (CINJ at Hamilton), Saint Peter's University Hospital, Somerset Medical Center, Southern Ocean County Hospital, The University Hospital/UMDNJ-New Jersey Medical School*, and University Medical Center at Princeton. *Academic Affiliate