Associate Director at The Cancer Institute of New Jersey Named AAAS Fellow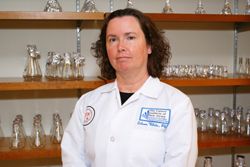 New Brunswick, N.J.– Eileen White, PhD, associate director for basic science at The Cancer Institute of New Jersey (CINJ) and adjunct professor of surgery at UMDNJ-Robert Wood Johnson Medical School, has been named as one of 503 fellows by the American Association for the Advancement of Science (AAAS) for her contributions to medical sciences. AAAS is an international professional organization dedicated to advancing science and technology. CINJ is a Center of Excellence of UMDNJ-Robert Wood Johnson Medical School.
Dr. White, who is also a professor of molecular biology and biochemistry at Rutgers, The State University of New Jersey, is internationally recognized for her work in programmed cell death (apoptosis) and cell self-digestion (autophagy).  Recent breakthroughs in this latter area of study -- described as a means of survival for a cancer cell through self-cannibalization -- have been discovered in the laboratory of White and her colleagues.
The recipient of peer-reviewed funding from the National Institutes of Health (NIH), White is the author or co-author of numerous publications which have appeared in major scientific journals including Cell and Science. She is a current member of the Council of Scientific Advisors for the American Association for Cancer Research and has previously served on the Board of Scientific Counselors for the National Cancer Institute and other review panels for the NIH.
The Princeton resident joins Chung S. Yang, PhD, of Bridgewater, who leads CINJ's Carcinogenesis and Chemoprevention Program.  Dr. Yang, chair and professor of chemical biology in the Ernest Mario School of Pharmacy at Rutgers University, conducts research on the mechanisms behind cancer development in the esophagus and colon and natural methods of cancer prevention.
Both White and Yang will be recognized during a Fellows Forum during the annual AAAS meeting in Washington, D.C., on February 19th.
About The Cancer Institute of New Jersey
The Cancer Institute of New Jersey (www.cinj.org) is the state's first and only National Cancer Institute-designated Comprehensive Cancer Center dedicated to improving the detection, treatment and care of patients with cancer, and serving as an education resource for cancer prevention. CINJ's physician-scientists engage in translational research, transforming their laboratory discoveries into clinical practice, quite literally bringing research to life.  To make a tax-deductible gift to support CINJ, call 732-235-8614 or visit www.cinjfoundation.org. CINJ is a Center of Excellence of UMDNJ-Robert Wood Johnson Medical School.
The CINJ Network is comprised of hospitals throughout the state and provides the highest quality cancer care and rapid dissemination of important discoveries into the community. Flagship Hospital: Robert Wood Johnson University Hospital. System Partner: Meridian Cancer Care (Bayshore Community Hospital, Jersey Shore University Medical Center, Ocean Medical Center, Riverview Medical Center, and Southern Ocean Medical Center). Major Clinical Research Affiliate Hospitals: Carol G. Simon Cancer Center at Morristown Memorial Hospital, Carol G. Simon Cancer Center at Overlook Hospital, and Cooper University Hospital. Affiliate Hospitals: CentraState Healthcare System, JFK Medical Center, Mountainside Hospital, Raritan Bay Medical Center, Robert Wood Johnson University Hospital Hamilton (CINJ Hamilton), Somerset Medical Center, The University Hospital/UMDNJ-New Jersey Medical School*, and University Medical Center at Princeton. *Academic Affiliate