BJ's Wholesale Club in Edison and The Cancer Institute of New Jersey to Host "Pink Picnic" in Honor of Breast Cancer Awareness Month
Local Breast Cancer Survivor to Share Personal Battle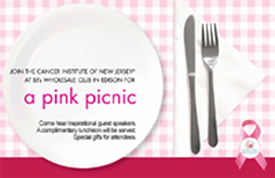 New Brunswick, N.J.– With October marking National Breast Cancer Awareness Month, BJ's Wholesale Club in Edison and The Cancer Institute of New Jersey (CINJ) are asking the community to "think pink" at its "Pink Picnic" on Wednesday, Oct. 6 from noon to 1:00 p.m. at the BJ's on 1000 US Highway 1.
The "Pink Picnic" is free and open to the public.  All attendees will receive lunch and a gift bag containing specially marked "Pink Ribbon" products, coupons, and information on BJ's Charitable Foundation'sâ support of breast cancer research and treatment.
"BJ's Wholesale Club is proud to host this 'Pink Picnic' event for the first year to raise awareness about the great work being done to fight breast cancer at The Cancer Institute of New Jersey," said Yasmin Sexton, regional marketing manager for BJ's Wholesale Club.
Deborah Toppmeyer, MD, director of the Stacy Goldstein Breast Cancer Center and LIFE Center at CINJ and expert in hereditary cancers, will speak about the impact of personal and family medical histories on cancer with a focus on young women with breast cancer.  Dr. Toppmeyer, who also is an associate professor of medicine and chief of solid tumor oncology at UMDNJ-Robert Wood Johnson Medical School, will be joined by a breast cancer survivor treated at CINJ, Anne Trinkle, who will share her personal experience with the disease.
In addition, BJ's will unveil specially marked "Pink Ribbon" merchandise sold throughout BJ's 15-state footprint during October.  Every product with the BJ's Charitable Foundation Pink Ribbon Logo will generate donations to be divided among National Cancer Institute-designated cancer centers along the East Coast, including CINJ. BJ's has worked closely with CINJ since 2006 donating more than $76,000 for breast cancer efforts
  "This year's 'Pink Picnic' will allow us the opportunity to help educate the public about breast cancer prevention and bring more awareness of the disease to the greater community.  We are extremely grateful that BJ's continues to support breast cancer programs at The Cancer Institute of New Jersey," said Toppmeyer.  
For more information, about BJ's and their support of CINJ's breast cancer program, visit www.bjsforpink.com.  

About The Cancer Institute of New Jersey
The Cancer Institute of New Jersey (www.cinj.org) is the state's first and only National Cancer Institute-designated Comprehensive Cancer Center dedicated to improving the detection, treatment and care of patients with cancer, and serving as an education resource for cancer prevention. CINJ's physician-scientists engage in translational research, transforming their laboratory discoveries into clinical practice, quite literally bringing research to life.  To make a tax-deductible gift to support CINJ, call 732-235-8614 or visit www.cinjfoundation.org. CINJ is a Center of Excellence of UMDNJ-Robert Wood Johnson Medical School. 
The CINJ Network is comprised of hospitals throughout the state and provides a mechanism to rapidly disseminate important discoveries into the community. Flagship Hospital: Robert Wood Johnson University Hospital. Major Clinical Research Affiliate Hospitals: Carol G. Simon Cancer Center at Morristown Memorial Hospital, Carol G. Simon Cancer Center at Overlook Hospital, Cooper University Hospital and Jersey Shore University Medical Center. Affiliate Hospitals: Bayshore Community Hospital, CentraState Healthcare System, JFK Medical Center, Mountainside Hospital, Raritan Bay Medical Center, Robert Wood Johnson University Hospital at Hamilton (CINJ at Hamilton), Saint Peter's University Hospital, Somerset Medical Center, Southern Ocean County Hospital, The University Hospital/UMDNJ-New Jersey Medical School*, and University Medical Center at Princeton. *Academic Affiliate
 
About BJ's Wholsale Club
BJ's is dedicated to providing members with high-quality, brand-name food and merchandise at prices that are significantly lower than supermarkets, supercenters, department stores, drug stores and specialty retail stores.  BJ's carries the most product variety of any wholesale club with more than 7,000 items, including supermarket-sized staples, USDA Choice meats and stock-up items. BJ's is the only wholesale club to accept all manufacturers' coupons and for greater convenience, offers the most payment options including EBT.
Headquartered in Natick, Massachusetts, BJ's Wholesale Club, Inc. is a leading operator of warehouse clubs in the eastern United States.  The Company currently operates 189 clubs and 105 gas stations in 15 eastern states.  Learn more and shop online at BJs.com or for exclusive content visit Facebook.com/bjswholesaleclub and Twitter.com/bjswholesale.
Contact:
Michele Fisher, CINJ Maria Fruci, BJ's Wholesale Club