Investigators from The Cancer Institute of New Jersey Selected as Inaugural Fellows for AACR Academy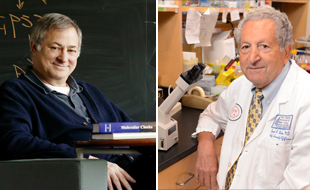 A pair of world-renowned researchers at The Cancer Institute of New Jersey is being recognized by the American Association for Cancer Research (AACR), the world's largest professional organization dedicated to advancing cancer research, having been selected to the inaugural class of fellows in the AACR Academy. 
Joseph R. Bertino, MD, chief scientific officer at The Cancer Institute of New Jersey, who also is a university professor of medicine and pharmacology at UMDNJ-Robert Wood Johnson Medical School, was selected, as well as Arnold J. Levine, PhD, resident member of The Cancer Institute of New Jersey and professor of pediatrics and biochemistry at UMDNJ-Robert Wood Johnson Medical School. Dr. Levine is also a professor emeritus at the Simons Center for Systems Biology at the Institute for Advanced Study in Princeton.
The AACR Academy was created to recognize and honor distinguished scientists whose major scientific contributions have propelled significant innovation and progress against cancer. Fellows were selected through a rigorous peer review process that evaluates individuals on the basis of their stellar scientific achievements in cancer research. The inaugural class of Fellows of the AACR Academy will consist of 106 individuals, symbolizing the age of the organization upon establishment of the Academy. 
Dr. Bertino has long been honored for his significant contributions to the development of novel cancer therapeutics.  In particular, he is recognized internationally for his role in finding curative treatments in the areas of leukemia and lymphoma. Considered to have made seminal discoveries in cancer research, Dr. Levine is best known for his work involving the co-discovery of the p53 tumor suppressor gene, which has long been considered a building block in molecular cancer research.
See a snapshot of Dr. Bertino's work over the past 50 years as published in the Winter 2013 edition of Oncolyte. Learn more about Dr. Levine's accomplishments in this research profile.