Return to Publications  |  Return to CINJ Home

The latest news on research, treatment, prevention and education from the
state's only National Cancer Institute-designated Comprehensive Cancer Center
Pedaling Toward $2 Million to Fight Cancer
Aiming to reach a cumulative $2 million to support cancer research at Rutgers Cancer Institute of New Jersey, organizers for the Century for the Cure bike ride have opened registration for the 12th annual event scheduled for September 18. Having raised nearly $300,000 from last year's ride, the event has recorded an overall $1.7 million since its inception. The funding supports cutting-edge clinical trials and grants for investigators to further advance the understanding of and treatment for hematologic malignancies. To learn more or to register visit www.centuryforthecure.org.
Exploring Gender Disparity in Lung Cancer
Aiming to better understand gender differences in lung cancer, Rutgers Cancer Institute radiation oncologist Sharad Goyal, MD, is embarking on new research supported by an inaugural $400,000 LUNG FORCE Research Innovation Project: Lung Cancer in Women Award from the American Lung Association. Dr. Goyal, an associate professor of radiation oncology at Rutgers Robert Wood Johnson Medical School, will explore whether radiation exposure from interventional cardiovascular procedures leads to increased risk of lung cancer in women as compared to men.
Learn more
Co-Program Leader in Cancer Pharmacology Research Named
Stephen K. Burley, MD, DPhil, has been named as co-program leader of the Cancer Pharmacology Research Program at Rutgers Cancer Institute of New Jersey. This basic science program unites investigators with broad scientific expertise who share a strong interest in cancer pharmacology and preclinical drug development. In this role, Dr. Burley, a distinguished professor of chemistry and chemical biology in the School of Arts and Sciences at Rutgers University, will help discover, design, and develop new anti-cancer agents.
Learn more
Beyond Treatment: Honoring Nurses at Rutgers Cancer Institute
Caring for cancer patients may be the first thing that comes to mind when thinking about the work of an oncology nurse, but the role involves so much more. To recognize the scope of their work, which includes research and peer mentoring, Rutgers Cancer Institute nurses were recently celebrated during Oncology Nurses Week. Chandrika Jeyamohan, RN, MSN, APN-BC, CCRC and Josephine L. Machado, MSN, RN, OCN received the 2016 Oncology Nursing Excellence Awards in the advanced practice nurse and generalist nurse categories, respectively.
Learn more
Breast Surgeon Appointed Oncology Center Program Director for RWJ Hamilton
Rutgers Cancer Institute of New Jersey and Robert Wood Johnson University Hospital Hamilton (RWJ Hamilton) have announced the appointment of breast surgeon Firas Eladoumikdachi, MD, FACS, as Program Director for the Rutgers Cancer Institute of New Jersey at Hamilton - the cancer center at RWJ Hamilton. Dr. Eladoumikdachi, who is also an assistant professor of surgery at Rutgers Robert Wood Johnson Medical School, will be responsible for clinical leadership of the oncology service line at RWJ Hamilton including medical, surgical and radiation oncology.
Learn more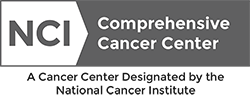 Office of Communications         ·         www.cinj.org        ·        732-235-9871