The Cancer Institute of New Jersey Offers Clinical Research Experience to High School Students Underrepresented in the Biomedical Field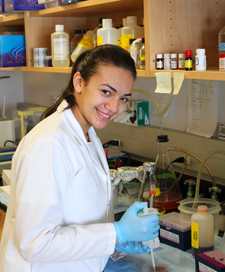 New Brunswick, N.J. – Building off the success of its Continuing Umbrella for Research Education (CURE) Program that encourages underrepresented minority undergraduate and high school students to pursue careers in healthcare, the Cancer Institute of New Jersey is offering a related program focusing on clinical research.  The Clinical Research Experience for High School Students (CREHST) program, funded by a generous grant from the Rita Allen Foundation, aims to expose students to the clinical aspect of cancer research and careers available in what are known as STEM (Science, Technology, Engineering, and Math) fields.
The CREHST program was developed with the goal of achieving diversity in the biomedical research workforce. Select high school juniors and seniors who met application criteria and were accepted into the program soon will begin to train alongside physician-scientists at the Cancer Institute of New Jersey. The goal is to motivate them to pursue college degrees in STEM areas and ultimately choose a career in biomedical research.
Sunita Chaudhary, PhD, director of research education at the Cancer Institute of New Jersey, leads the CREHST program.  "Through the generous support of the Rita Allen Foundation, we are able to provide our mentoring faculty with additional tools and resources to provide a comprehensive clinical research experience for these students.  And most important, this funding helps the Cancer Institute of New Jersey fulfill its education mission of training the next generation of scientists," she noted.
Some of the research projects the students will work on include examining combination therapies for various hematological malignancies, exploring new genetic approaches to the treatment of patients with non-Hodgkin's lymphomas, and looking at signaling pathways in prostate cancer, among others.
The five students selected will begin the one-year training program in July. They will spend 40 hours per week at the Cancer Institute of New Jersey through the summer, followed by one afternoon per week during the upcoming academic year. Trainees will spend 80 to 90 percent of their time on their research projects while taking part in additional enrichment activities that focus on general cancer knowledge, the nature of oncology research, experimental design, bioethics, protection of human subjects and scientific writing. Students also will attend lectures on clinical research topics including cancer prevention, cancer as a disease, diagnosing cancer, cancer treatment, clinical trials and cancer drug development. 
About the Cancer Institute of New Jersey
The Cancer Institute of New Jersey (www.cinj.org) is the state's first and only National Cancer Institute-designated Comprehensive Cancer Center dedicated to improving the detection, treatment and care of patients with cancer, and serving as an education resource for cancer prevention. Physician-scientists at the Cancer Institute of New Jersey engage in translational research, transforming their laboratory discoveries into clinical practice, quite literally bringing research to life.  To make a tax-deductible gift to support the Cancer Institute of New Jersey, call 732-235-8614 or visit www.cinjfoundation.org. Follow us on Facebook at www.facebook.com/theCINJ. The Cancer Institute of New Jersey is a Center of Excellence of the University of Medicine and Dentistry of New Jersey-Robert Wood Johnson Medical School.
The Cancer Institute of New Jersey Network is comprised of hospitals throughout the state and provides the highest quality cancer care and rapid dissemination of important discoveries into the community. Flagship Hospital: Robert Wood Johnson University Hospital. System Partner: Meridian Health (Jersey Shore University Medical Center, Ocean Medical Center, Riverview Medical Center, Southern Ocean Medical Center, and Bayshore Community Hospital). Major Clinical Research Affiliate Hospitals: Carol G. Simon Cancer Center at Morristown Medical Center, Carol G. Simon Cancer Center at Overlook Medical Center, and Cooper University Hospital. Affiliate Hospitals: CentraState Healthcare System, JFK Medical Center, Robert Wood Johnson University Hospital Hamilton (CINJ Hamilton), Shore Medical Center, Somerset Medical Center, The University Hospital/UMDNJ-New Jersey Medical School*, and University Medical Center of Princeton at Plainsboro. *Academic Affiliate