Free Prostate Cancer Screenings - September 2015
(Available for men 40 and older)
According to the National Cancer Institute, prostate cancer is the most frequently diagnosed cancer in men, other than skin cancer. Early detection is key to receiving appropriate treatment, if necessary.
Rutgers Cancer Institute of New Jersey and Robert Wood Johnson University Hospital are offering free prostate cancer screenings for men 40 and older. Screenings will be held from 5 pm - 8 pm on the following days: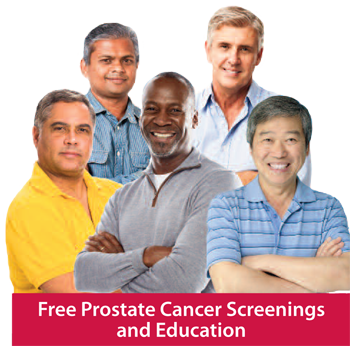 Tuesday, September 15, 2015
 
Wednesday, September 16, 2015
 
Thursday, September 17, 2015
Screenings are free, but an appointment is required.
To schedule your appointment, please call 1-888-MD-RWJUH
(1-888-637-9584).

Screenings will take place at:
Rutgers Cancer Institute of New Jersey
195 Little Albany St.
New Brunswick, NJ 08903
Click here for directions.
Click here for paid parking information.

Listen In
Sammy Elsamra, MD, Urologic Oncologist at Rutgers Cancer Institute of New Jersey and Robert Wood Johnson University Hospital and Assistant Professor of Surgery at Rutgers Robert Wood Johnson Medical School talks about Free Prostate Cancer Screening and Education Program at Robert Wood Johnson University Hospital and Rutgers Cancer Institute of New Jersey with Dr. Arthur Perry Show, on WABC 770-AM New York