The Memorial Wall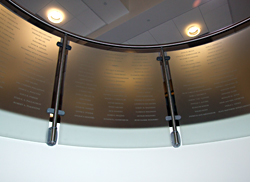 Choosing how to remember a loved one is very personal. Many decide to remember by encouraging family and friends to make gifts to the Cancer Institute of New Jersey Foundation (CINJF). A family may choose to include the name of their loved one on the Memorial Wall—a series of frosted glass panels which flank the main atrium stairway at The Cancer Institute of New Jersey—when memorial gifts total $2,500 or more. Those memorialized need not have been a patient at CINJ. Once each year, family and friends are invited to a reception and dedication program celebrating those whose names were added to the Memorial Wall.
If you would like more information regarding the Memorial Wall at CINJ, please contact Stacy Boyer at stacyboyer@cinjfoundation.org or 732-235-8614.
Family and friends may make tribute gifts online or print the Donation Form and mail or fax it to the address/phone number listed on the form.