Bioinformatics
Chief Informatics Officer, Executive Director of Biomedical Informatics: David J. Foran, PhD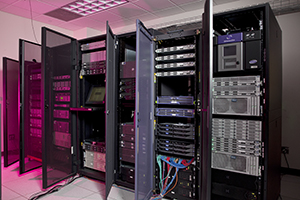 The Bioinformatics Shared Resource supports the management, sharing and analysis of data from diverse sources. Cancer research has become an increasing data-driven science, particularly as Cancer Institute of New Jersey  members embrace next generation sequencing and other data intensive technologies. The overall purpose of the Bioinformatics Shared Resource is to provide computational and informatics support for Cancer Institute of New Jersey members and programs and ensure that their evolving needs are addressed. The goal is to advance basic, clinical, translational and population sciences research undertaken by Cancer Institute of New Jersey members via an inclusive, systems-level, integrative approach to address their growing and evolving needs. Through direct consultation, review, and close interactions with  members, the Bioinformatics Shared Resource ensures that Cancer Institute of New Jersey studies are scientifically rigorous, that goals are achievable and produce results that lead to high quality publications.
The specific objectives of the Bioinformatics Shared Resource are as follows:
To provide bioinformatics support for genome scale analyses
To assist with microarray databases and analyses
To provide data warehouse services/integrative cancer biology and data mining
To build the clinical data repository and perform clinical data services
To perform chemical informatics analyses
To support other Cancer Institute Shared Resources
To provide web-based application development.
ACKNOWLEDGEMENT OF SHARED RESOURCES
The shared resources of the Cancer Institute of New Jersey are specialized service facilities that support the cancer research efforts of our members.
The shared resources are supported primarily by the Cancer Center Support Grant (CCSG) from the National Cancer Institute. Additional support may be provided from other sources, such as chargeback systems, institutional funding and/or other grants. The support from the CCSG allows the core facilities to provide benefits to Cancer Center members, such as ensured access to services or subsidies to user rates.
Please remember to acknowledge the valuable services provided by Cancer Institute of New Jersey Shared Resources in your research papers, publications and grant applications:
"This research was supported by the [insert name(s)] Shared Resource(s) of the Cancer Institute of New Jersey (P30CA072720)."
(Note: please also consider including the names of individuals from the shared resources if they provided any intellectual input or additional effort.)