Centralized Education and Training Services for Clinical Research Personnel
Interim Director: Susan Torok-Rood
The overall purpose of the Centralized Education and Training Services (CETS) Shared Resource is to enhance the quality of clinical cancer research through the education and training of cancer research professionals practicing at The Cancer Institute of New Jersey  and throughout the CINJ clinical research centers of the CINJ Oncology Group. CETS develops curricula and provides educational opportunities designed to facilitate the development and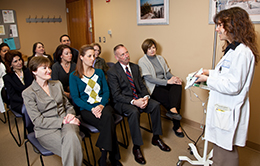 maintenance of knowledge and skills that enable research professionals to deliver high quality services to patients participating in clinical trials. Included in these activities is an initial skills training, a continuing education program for clinical research staff, ongoing education regarding compliance and regulatory issues, and the provision of protocol-specific educational opportunities. This Shared Resource is strategically important because it provides a continual source of well-qualified research professionals who support the center's core mission of highly innovative, high quality translational discovery.
The specific goals of this shared resource are:
To design, develop, and implement educational programs to train new research professionals
To meet the ongoing learning needs of research professionals practicing in a dynamic environment
To educate research professionals about new regulatory and compliance information, and disseminate this information rapidly
    To prepare research professionals for specific requirements in individual protocols
ACKNOWLEDGEMENT OF SHARED RESOURCES
The shared resources of The Cancer Institute of New Jersey are specialized service facilities that support the cancer research efforts of our members.
The shared resources are supported primarily by the Cancer Center Support Grant (CCSG) from the National Cancer Institute.  Additional support may be provided from other sources, such as chargeback systems, institutional funding and/or other grants. The support from the CCSG allows the core facilities to provide benefits to Cancer Center members, such as ensured access to services or subsidies to user rates.
Please remember to acknowledge the valuable services provided by CINJ Shared Resources in your research papers, publications and grant applications:
"This research was supported by the [insert name(s)] Shared Resource(s) of The Cancer Institute of New Jersey (P30CA072720)."
(Note: please also consider including the names of individuals from the shared resources if they provided any intellectual input or additional effort.)