Metabolism Mystery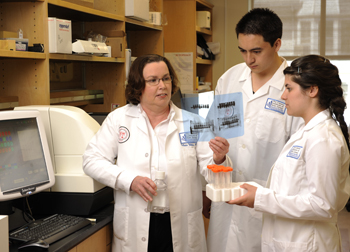 In talking to members of Eileen White's Laboratory about their work at The Cancer Institute of New Jersey, one might feel as if they're in the middle of a detective novel.
The Dick Tracy of this story is a high-tech piece of equipment known as the Seahorse and the mystery at hand is determining how cancer cells use energy to stay alive.  Investigators in the White lab have been using the recently acquired machine to unravel the inner workings of cancer cell metabolism and to see how these cells handle stress, especially starvation.
Cancer cells are largely addicted to food, which helps fuel cells, giving them  the energy they need to create other cancer cells. The Seahorse measures this energy, thus providing clues about the process and potential answers to how cancer cells manage their energy needs by manipulating food intake and consumption. Such fuel supports the "powerhouses" of the cell, known as mitochondria. 
When deprived of needed nutrients, cells will try to overcome such stress and sustain themselves by getting rid of individual defective mitochondrion by transporting them to a special area of the cell for dismantling and recycling.  Once this process is complete, broken pieces remain, which are used as building blocks to create new cancer cells. 
The White lab is looking at ways to inhibit this dismantling and recycling process, which would lead to accumulation of defective mitochondria, ultimately resulting in the self destruction of the cell.  One way of blocking this process is by combining standard chemotherapy with targeted drugs.  CINJ investigators are applying this knowledge to current clinical trial offerings involving the anti-malaria drug hydroxychloroquine, which has shown to inhibit this dismantling and recycling process.
But further identifying the intricate nature of this process is not possible without being able to assess a cell's energy usage in a rapid and precise fashion. It used to take days with an older form of technology to take such measurements.  Now with the Seahorse, it only takes minutes and the information is more clearly defined.  It is an advancement that CINJ Associate Director for Basic Science Eileen White, PhD, says is helping to propel new discoveries.
"Science continually requires advanced technology, and the Seahorse has proven to be transformative.  It is essential and critical for us to have such equipment, as it really makes a difference in the progress of cancer research," noted Dr. White, who is also an adjunct professor of surgery at UMDNJ-Robert Wood Johnson Medical School and a professor of molecular biology and biochemistry at Rutgers, The State University of New Jersey.
Funding for CINJ's Seahorse was made possible through a grant from the CINJ Foundation supported by the Val Skinner Foundation, E.J. Grassman Trust and The Hyde & Watson Foundation.