Two Wheels are Latest Tools in Advancing Cancer Research
'Century for the Cure' bike ride raises cumulative $1.2M for Rutgers Cancer Institute of New Jersey
New Brunswick, N.J. – Who knew that two wheels and a bit of endurance could be a big boost to cancer research? Thanks to the annual Century for the Cure bike ride, $1.2 million has been raised since 2005 to support Rutgers Cancer Institute of New Jersey.  A final tally of $170,000 from this year's event held this past September in Warren Township recently was announced.
Century for the Cure sees more than a hundred riders, dozens of volunteers and numerous "virtual participants" – those who choose not to make the 100-mile, 80-mile or 40-mile treks but give their support online.  The effort in part supports cutting-edge research at the Cancer Institute of New Jersey.  Most recently, funds raised from the ride helped establish the first-ever Century for the Cure Research Grant.  A pair of $50,000 grants was awarded to physician scientists from the Cancer Institute of New Jersey and other investigators from Rutgers, The State University of New Jersey, to further enhance exploration of blood cancers.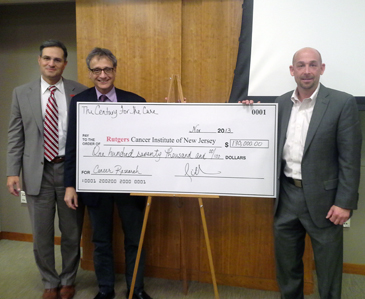 Ride founder Scott Glickman battled stage four non-Hodgkin's lymphoma some 15 years ago and was successfully treated at the Cancer Institute.  He knows first-hand that support of cancer research is important. "The research being conducted today could result in the scientific breakthroughs of tomorrow.  My wife Aileen and I are proud that so many people take part in Century for the Cure each year.  Their contribution -- whether they ride, donate or volunteer on race day -- is making a tremendous impact. And thanks to our corporate donors, 100 percent of rider-raised funds are given to the Cancer Institute," said Glickman.
Glickman and his family were at the Cancer Institute recently for a check presentation ceremony with Roger Strair, MD, PhD, chief of the Hematologic Malignancies/Hematopoietic Stem Cell Transplantation Program at the Cancer Institute. Funds raised through the event help to support cutting-edge clinical trials being conducted by Dr. Strair, who was Glickman's oncologist. "Thanks to Scott and Aileen's continued dedication to Century for the Cure, we are making scientific discoveries that are translating into new therapies for patients.  We are grateful for their efforts and for all of those who support the event," noted Dr. Strair, who is also a professor of medicine at Rutgers Robert Wood Johnson Medical School.
This year's event was co-sponsored by Overton Custom Brokers, Genentech, Benefit Sources & Solutions Chadler, JMK BMW, Capital One Bank, Stop and Shop, and others.
For additional information about Century for the Cure, visit www.centuryforthecure.com.
About Rutgers Cancer Institute of New Jersey
Rutgers Cancer Institute of New Jersey (www.cinj.org) is the state's first and only National Cancer Institute-designated Comprehensive Cancer Center. As part of Rutgers, The State University of New Jersey, the Cancer Institute of New Jersey is dedicated to improving the detection, treatment and care of patients with cancer, and to serving as an education resource for cancer prevention. Physician-scientists at the Cancer Institute engage in translational research, transforming their laboratory discoveries into clinical practice, quite literally bringing research to life.  To make a tax-deductible gift to support the Cancer Institute of New Jersey, call 732-235-8614 or visit www.cinj.org/giving. Follow us on Facebook at www.facebook.com/TheCINJ.
The Cancer Institute of New Jersey Network is comprised of hospitals throughout the state and provides the highest quality cancer care and rapid dissemination of important discoveries into the community. Flagship Hospital: Robert Wood Johnson University Hospital. System Partner: Meridian Health (Jersey Shore University Medical Center, Ocean Medical Center, Riverview Medical Center, Southern Ocean Medical Center, and Bayshore Community Hospital). Major Clinical Research Affiliate Hospitals: Carol G. Simon Cancer Center at Morristown Medical Center, Carol G. Simon Cancer Center at Overlook Medical Center, and Cooper University Hospital. Affiliate Hospitals: CentraState Healthcare System, JFK Medical Center, Robert Wood Johnson University Hospital Hamilton (CINJ Hamilton), Shore Medical Center, Somerset Medical Center, The University Hospital/Rutgers New Jersey Medical School*, and University Medical Center of Princeton at Plainsboro. *Academic Affiliate