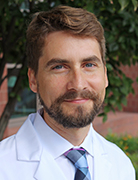 Alexandre Buckley de Meritens, MD
I joined Rutgers Cancer Institute of New Jersey as a gynecologic oncologist and the Director of the Survivorship Program for Gynecologic Oncology in August 2016 after completing a Gynecologic Oncology Fellowship at New York Presbyterian Hospital at Columbia and Cornell in New York.  I am also a Clinical Educator in the Department of Obstetrics, Gynecology and Reproductive Sciences, Division of Gynecologic Oncology at Rutgers Robert Wood Johnson Medical School.
My multicultural background having been born in France, raised in Peru and living in the United States since 2006, has shaped me both as a person and as a physician. In addition to English I speak several languages fluently including French and Spanish. It has always been an essential part of my practice to connect with my patients to overcome cultural differences in order to provide compassionate care.  Improving the overall well being of my patient and her family is a main goal during treatment as we partner together to conquer her disease.
Through the years training at Johns Hopkins University Hospital, and New York Presbyterian Hospital at Columbia and Cornell, I have had extensive surgical training in complex open procedures such as radical pelvic and upper abdominal surgery as well as minimally invasive surgical techniques such as advanced laparoscopy, robotic assisted surgery and sentinel lymph node biopsy.
My research focuses on studying the quality of life for patients during chemotherapy treatments.
I provide my patients with the most advanced treatment options including the use of clinical trials and precision medicine where we can tailor cancer treatment to individual tumor profiling. 
Dr. Buckley de Meritens see patients at both Rutgers Cancer Institute and St. Peter's University Hospital in New Brunswick.
Clinical Expertise
Ovarian cancer, endometrial cancer, cervical cancer, vulvar cancer, and clinical trials. 
Obstetrics and Gynecology Board Certified
Gynecologic Oncology Board Certified