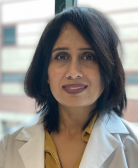 Anu Doraiswamy, MD
I am excited to return to Rutgers Cancer Institute of New Jersey to join the Hematologic Malignancies Program and the Blood and Marrow transplant Program.
I completed my Internal Medicine training at Johns Hopkins University/Sinai Hospital of Baltimore, where I served an additional year as Chief Resident. After completing my Hematology-Oncology fellowship at Rutgers Robert Wood Johnson School of Medicine/Rutgers Cancer Institute of New Jersey, I stayed on as Hematology Faculty member. During that time, I had the honor of directing the Hematology-Oncology curriculum for Rutgers Robert Wood Johnson Medical School. I also served in the Hematology Oncology Fellowship Program Core Curriculum Committee.
I then worked in Cleveland Clinic Florida, Maroone Cancer Center, where my clinical expertise was focused on Hematologic disorders and Hematologic Malignancies.
My specific clinical and research interest focuses on Acute Leukemias. Rutgers Cancer Institute provides patients access to cellular immunotherapy including CAR T-cell therapy as well as to various clinical trials which may otherwise not be readily accessible. I am humbled to join our exceptional multidisciplinary team of oncology physicians, hematopathologists, radiation and surgical oncologists, oncology nurse practitioners and nurses, pharmacists, social workers, nutritionists, who are committed to putting patients first. We provide a comprehensive evaluation, educate patients to make informed decisions and provide evidence-based cutting edge treatment options, to best fit each patient's choice and disease profile.
Clinical Expertise
Blood cancers, Acute Myelogenous Leukemia (AML), Acute Lymphocytic Leukemia (ALL), Chronic Myelogenous Leukemia (CML), Chronic Lymphocytic Leukemia (CLL), non-Hodgkin's Lymphoma (NHL), Hodgkin's Lymphoma (HL), Myelodysplastic Syndrome (MDS), Myeloproliferative Disorders, Aplastic Anemia, Multiple Myeloma.
Honors
Awarded First Prize for best oral presentation in the Oncology Society of New Jersey scientific forum devoted to Clinical Cancer Research, May 8, 2013
Trained and led Maryland Internal Medicine Resident team for Doctor's Dilemma Quiz to represent the state at the 2010 National American College of Physicians (ACP) meet.