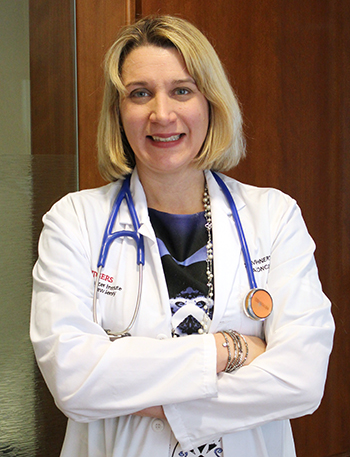 By Janice M. Mehnert, MD
Has cancer touched you, or a loved one? If so, you are not alone. Approximately 51,000 New Jersey residents will be diagnosed with cancer this year.  The development of new treatments begins with the process of clinical research, the key to improving the lives of those who are living with this disease. As one of the nation's 45 Comprehensive Cancer Centers as designated by the National Cancer Institute, Rutgers Cancer Institute of New Jersey maintains a strong commitment to clinical research.  
Clinical trials occur in multiple phases. After a promising drug or compound is developed in the laboratory, the first step of moving information from 'bench to bedside' is an early phase clinical study, such as a phase I trial, which assesses the safety of new agents in patients. Once safety is established, phase II trials examine antitumor activity in a particular disease type. In general, phase III trials compare a new treatment to an established therapy that is already standard. Physician scientists may also obtain samples of tumor or blood as part of these studies, which can be analyzed to understand which patients are most likely to respond to new treatments and thus, improve the upfront selection of therapies to treat individual cancers.
Clinical trials usually have an element of risk that is different from standard therapy. New agents may have unpredictable side effects, and rates of cure and survival are often not known in drugs being tested in clinical studies. However, clinical trials are often offered to patients when the standard therapies that are available work very poorly, or are shown to be ineffective. In these situations, a clinical trial can potentially provide access to a promising agent that is not otherwise available to patients.  Clinical trials are also important to others living with cancer, as the questions answered by these trials often move the field forward and optimize treatment approaches.
Only you and your physician can decide if a clinical trial is right for you.  Your healthcare team should offer a complete discussion of the risks and benefits, and the schedule of treatments should be explained in detail. Your complete medical history and list of medications will be reviewed to ensure that it is safe for you to participate. Finally, you will be given the opportunity to ask all of your questions, such as why the trial is being done and how participation is expected to impact your quality of life.
Many of the successes we enjoy in cancer therapy are the direct results of clinical trials. For instance, eight years ago, the only approved drugs to treat advanced melanoma were chemotherapy, which nearly always failed patients, and interleukin-2, which induced durable responses in only a small percentage of patients. Today, six new therapies have been FDA approved, resulting in improved patient survival and quality of life. These developments would have been impossible without a devoted community of physician scientists. However, the real heroes are the patients who inspire us daily, including those who volunteered to be part of a clinical study.
For more information on cancer clinical trials offered at Rutgers Cancer Institute of New Jersey, visit www.cinj.org/clinical-trials/clinical-trials-overview.
Janice M. Mehnert, MD, is the director of the Phase I/Investigational Therapeutics Program at Rutgers Cancer Institute of New Jersey.  Dr. Mehnert is an expert in developmental therapeutics and translational clinical trials, as well as the treatment of advanced skin and soft tissue tumors. She is also an associate professor of medicine at Rutgers Robert Wood Johnson Medical School.