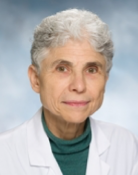 Elizabeth Poplin, MD
Attending Physician, Palliative Medicine and Cancer Pain Service
Having been at the Cancer Institute of New Jersey since 2003, I have helped hundreds of patients navigate and better understand their disease. With a comprehensive service line available through the Gastrointestinal/Hepatobiliary Program, our multi-disciplinary team is able to provide unique treatment and management options for stomach, colorectal, pancreas, liver and other related cancers all under one roof. 
Since my training as a fellow at the University of Maryland Cancer Center and the National Cancer Institute, I have had a strong interest in gastrointestinal cancers and new drug development.  Recently, I have focused additionally on care of the elderly and on improving quality of life for patients with cancer.
Cancer is being diagnosed and treated in increasing frequency as the U.S. "baby-boomer" population ages. I am interested in developing better treatment and support for this group of patients, who face challenges different from younger patients.
Clinical Expertise
Hospice and palliative medicine