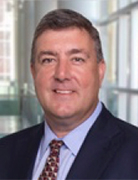 Francis R. Patterson, MD
Orthopedic Surgeon
Rutgers Cancer Institute of New Jersey at University Hospital
I joined University Hospital and New Jersey Medical School in 1999 and am currently a Professor of Orthopaedics at Rutgers New Jersey Medical School and an Attending Physician in the Department of Orthopaedics. I have won numerous academic and professional awards, including the 2012 Leonard Tow Humanism in Medicine Award presented by the Arnold P. Gold Foundation. I am named in the Top Orthopedic Doctors of New Jersey as well as the Top Oncology Doctors of New Jersey lists for the last several years.
I have presented internationally on my research and have been published extensively. I have been active with the American Academy of Orthopaedic Surgeons, serving on its Musculoskeletal Tumors and Disease Evaluation Subcommittee since 2004. My professional memberships include the American Board of Orthopaedic Surgery, American Orthopaedic Association, Musculoskeletal Tumor Society, Connective Tissue Oncology Society and the Children's Oncology Group. In addition to University Hospital, I serve as a Staff Orthopedist at Hackensack Medical Center, a consultant to the East Orange Veteran's Administration, an attending staff member at Newark Beth Israel Medical Center, and an attending orthopedic staff member at Overlook Hospital.
I completed my medical studies at the State University of New York at Buffalo, graduating Magna cum Laude, and completed my internship and residencies at the State University of New York Health Science Center in Syracuse. I was a post-doctoral fellow in Musculoskeletal Oncology at University of Chicago Hospitals.
Clinical Expertise
Benign and malignant bone and soft tissue tumors of the musculoskeletal system, metastatic bone disease, complex limb salvage after failed joint reconstruction surgeries or complex trauma.
Contact Information
For appointments at Rutgers Cancer Institute of New Jersey at University Hospital, please call 973-972-5108.
For all other inquiries about Rutgers Cancer Institute of New Jersey please call 732-235-2465.