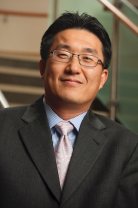 Isaac Kim, MD, PhD, MBA
Chief, Urologic Oncology
Executive Director, Prostate Cancer Program, Rutgers Cancer Institute
Medical Director of Robotic Surgery, Monmouth Medical Center
Having been at the Cancer Institute of New Jersey since 2005, I have helped thousands of patients navigate and better understand their urologic cancer.  With a comprehensive service line available through the Prostate Cancer Program and our Urologic Oncology Program, our team is able to provide unique treatment, management and prevention options for prostate, testis, kidney and bladder cancers all under one roof. Currently, our team is focused on developing a multi-modal approach that utilizes surgery and systemic therapy to improve the outcome in men with metastatic prostate and kidney cancer.
Having completed my urology residency at Baylor College of Medicine and a research fellowship in Urologic Oncology at the National Cancer Institute and clinical fellowship in endourology, laparoscopy and robotics at the University of California, Irvine, I am specially trained in performing minimally-invasive robotic surgery and help patients decide whether this option is right for them.  To date, I have completed more than 2,000 robotic surgeries for prostate cancer.
I treat patients both here in New Brunswick as well as at Monmouth Medical Center, an RWJBarnabas Health facility.
While a surgeon, I also have a strong research interest in inflammation and treatment resistance in prostate cancer. My laboratory program has uncovered a link between macrophages, a mediator of inflammation, and castration-resistant prostate cancer. More recently, we have identified a transcription factor that may mediate the resistance to androgen deprivation therapy – the standard of care in men who are not candidates for surgery or radiation. Currently, this work is supported by a research grant from the Department of Defense. Being part of a National Cancer Institute-designated Comprehensive Cancer Center, I have the unique opportunity to conduct research and translate those findings into today's cancer treatments.
I am the author or co-author of  over 160 publications and serve on the editorial board of the journals PLoSOne, International Clinical Urology, and Prostate International. In addition, I review research grant proposals on behalf of the Department of Defense and scientific manuscripts that have been submitted to the following journals: Cancer Research, Clinical Cancer Research, Journal of Clinical Oncology, Archives of Internal Medicine, Journal of Urology, Urology, and Journal of Endourology. I am member of the American Urological Association, American College of Surgeons, American Society of Clinical Oncology, Eastern Cooperative Oncology Group, Society of Basic Urologic Research, and Society of Endourology.
Given these trainings, experience, and expertise, I strive to deliver the best care for patients with urologic malignancies that is firmly based on currently available medical and scientific evidence. Simultaneously, clinical trials that challenges and improves current guidelines are at the core of my commitment to helping patients.
 

Dr. Kim sees patients at Rutgers Cancer Institute and Monmouth Medical Center. 
Clinical Expertise
Laparoscopy, robotic surgery, prostate cancer, kidney cancer
Honors
America's Top Surgeons, 2012
 
Award of Hope for Leadership in Research and Patient Care, The Cancer Institute of New Jersey Foundation, 2012
 
Edwin Beer Research Fellowship, New York Academy of Medicine, 2006
 
Clinical Fellow, AACR/ASCO, 2004
 
Outstanding Laparoendoscopic Resident Surgeon, Society of Laparoendoscopic Surgeons, 2003