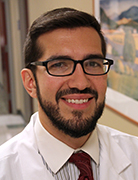 Joseph P. Weiner, MD
Radiation Oncologist
Program Director and Assistant Professor, Radiation Oncology Residency Program
Rutgers Cancer Institute of New Jersey
In our era of personalized medicine, cancer care deserves strict attention to detail to help maximize successful patient outcomes while also maintaining a compassionate approach.  Through my own personal experiences, I understand the apprehension and uncertainty of being a patient, and how helpful an attentive health care provider can be in alleviating those feelings.  It is therefore my goal as a Board Certified radiation oncologist at Rutgers Cancer Institute of New Jersey to be able to treat patients with the same respect, compassion and clinical excellence that I would expect for myself and members of my own family.  I pride myself in being able to conscientiously connect patients with their treatment and life goals. 
I specialize in malignant and benign cancers of the central nervous system (brain/spine) as well as tumors of the skin and soft tissue. Clinical trials are an important part of my practice, and I often engage in discussions with my patients about participating in an appropriate therapy.
Before joining Rutgers Cancer Institute I completed a Clinical Fellowship in Stereotactic Radiosurgery and Brachytherapy at the Stanford Cancer Institute in Palo Alto, California.  My residency training in Radiation Oncology was completed at SUNY Downstate, located in Brooklyn, New York.  Prior to this I completed medical school at Rutgers New Jersey Medical School in Newark, New Jersey.
In addition to my clinical activities, I also actively publish peer-reviewed articles on novel investigations, review articles and text book chapters and present my research at local, regional and national conferences.  I am involved in physician-in-training education and am a regular lecturer to our medical students and resident physicians.
Clinical Expertise
Treatment of disorders of the central nervous system including malignant, benign and functional diseases, as well as skin cancer and soft tissue sarcoma. Techniques employed include: Stereotactic radiosurgery (SRS) via both Gamma Knife and Linear Accelerator platforms, Stereotactic ablative radiation (SABR), Proton Beam Therapy (PBT), External beam radiation therapy (EBRT), Intensity-modulated radiation therapy (IMRT), Volumetric arc therapy (VMAT), Image-guided radiation therapy (IGRT)