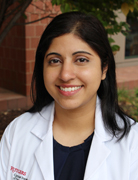 Jyoti Malhotra, MD, MPH
I am a medical oncologist at the Rutgers Cancer Institute of New Jersey and an Assistant Professor of Medicine at Robert Wood Johnson Medical School. As a medical oncologist, I care for patients with lung, mesothelioma and other thoracic cancers, as well as those who participate in clinical trials. I joined Rutgers Cancer Institute of New Jersey after completing a fellowship in Hematology and Oncology at Mount Sinai Hospital in New York City. This was preceded by a residency in Internal Medicine at Georgetown University Hospital and Washington Hospital Center in Washington, DC.
 
My research interest is in development of novel therapies for the treatment of lung cancer and advanced solid tumors. As a member and acting director of the Phase I/Investigational Therapeutics Program, I work closely with a dedicated research team to increase access to newer therapies to our patients. I am an author on more than 75 publications, book chapters and abstracts and the lead investigator on multiple national clinical trials.
 
As the co-leader of the Thoracic Disease Group at the Cancer Institute of New Jersey, I work collaboratively with members of our multidisciplinary team including thoracic surgeons, radiation oncologists, radiologists, pathologists and nurses to provide the most advanced treatment options and trial therapies to patients. As a member of the American Society of Clinical Oncology and the American Association for Cancer Research, I keep abreast of the latest cancer research trends.
Clinical Expertise
Lung cancer, mesothelioma, esophageal cancer