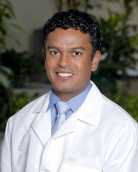 Kevin David, MD
Hematologist/Oncologist
Director, Lymphoma Program, Rutgers Cancer Institute;
Associate Professor, Robert Wood Johnson Medical School
I have been at the Cancer Institute of New Jersey since 2009, having completed a fellowship in hematology/oncology at Northwestern University Feinberg School of Medicine, which was preceded by a residency at Barnes-Jewish Hospital/Washington University School of Medicine.
With a clinical focus on Hodgkin's lymphoma and non-Hodgkin's lymphoma, I provide patients with a comprehensive evaluation and help educate them about their disease so that they can make informed decisions about their treatment options.  This is done collaboratively all under one roof at Rutgers Cancer Institute with experts across multi-disciplines through the Leukemia/Lymphoma/Hematologic Malignancies Program. Radiation and surgical oncologists, nurses, social workers, nutritionists and other experts are all part of the conversation.
Dr. David sees patients at Rutgers Cancer Institute and Robert Wood Johnson University Hospital Hamilton. 
Clinical Expertise
Leukemia, non-Hodgkin lymphoma, Hodgkin lymphoma, blood cancers
Honors
Amgen Hematology/Oncology Fellowship Grant, Amgen, 2008
ECOG Young Investigators Symposium, ECOG, 2007
ASCO Fellows Merit Award, ASCO, 2005