Home | Services | Equipment | Service Request Forms | Image Gallery
The Advanced Microscopy shared resource offers a wide range of microscopy platforms, which include Nikon A1Rsi laser scanning confocal microscope system, Olympus IX71 live cell time-lapse microscope system, IncuCyte Zoom live cell imaging system, Arcturus XT laser capture microdissection system, and other microscopes.
Microscopy Service 
Laser-scanning confocal microscopy allows researchers to acquire images with high resolution, optical sectioning of live cells in culture or fixed tissues. The wide range of fluorescent probes and detectors enables rapid analysis of multiple parameters within one sample. The advantage of this technology over wide-field epifluorescence microscopy is that it only allows focused point illumination to reach detector thus enhancing image resolution and control the depth of the focal plane within cells. The use of lasers of different wavelengths to scan fluorescent labeled cells or tissues horizontally and vertically makes 3D imaging available. Using this technology, researchers can learn dynamic changes of morphologic and functional relations in cells.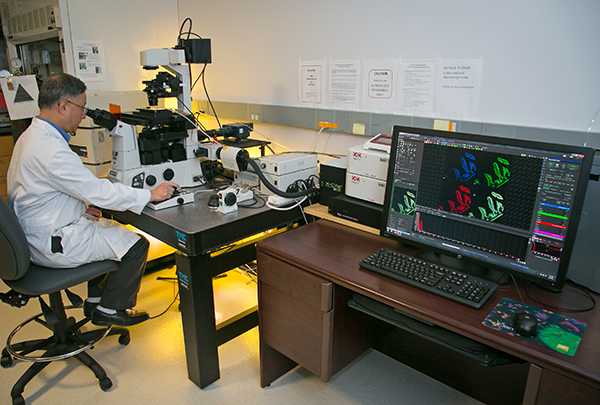 Featured microscopy includes:
High-resolution multi-channel fluorescence imaging of a wide range of cell and tissue specimens
Different modalities for different specimens - scanning confocal, widefield imaging
Transmitted light DIC imaging
Live-cell imaging with ND capability
High-speed resonant scanner for rapid less damaging confocal image acquisition
FRAP, FLIP, ND stimulation/conversion
Time measurement of signal dynamics in living cells
High content application microscopy
2D, 3D imaging and measurements
Spectral imaging
Long-term time-lapse (e.g. multiple days) available on the time-lapse microscope and IncuCyte Zoom imaging system
Laser Capture Microdissection (LCM) Service
Laser capture microdissection (LCM) is a proven technique for isolating pure cell populations in situ for downstream molecular analysis. The Applied Biosystems® ArcturusXT LCM combines a non-damaging infrared (IR) laser capture and an ultraviolet (UV) laser beam cutting LCM, which permits rapid and precise procurement of small or larger numbers of cells from either fresh, frozen or paraffin-embedded tissue section while maintaining their cellular texture and DNA, RNA integrity intact for downstream analysis, which includes but not limit to DNA genotyping, microarray, proteomics study, RNA transcript profiling, cDNA library generation and sequencing. 

The ArcturusXT LCM system is also equipped with live cell dish stage and fluorescence modules, which enable isolating specific target live cells in cultures and the cells labeled with fluorescence dyes.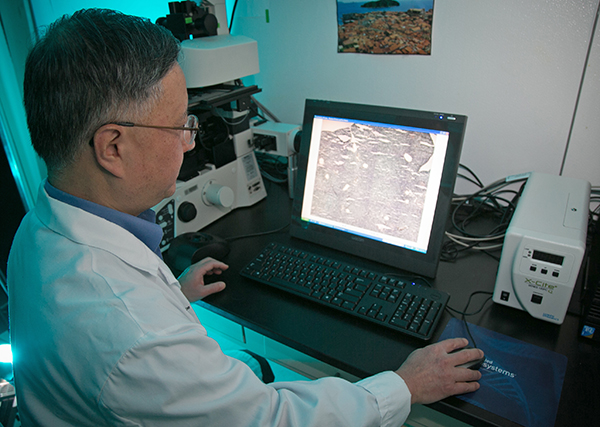 Offered services: 
Consultation on experiment design 
Advice on sample preparation, staining prior to microdissection and choice of consumables for LCM
One-on-one training on the use of the LCM system 
Technical assistance on how to use the LCM system 
LCM assistance including identification and microdissection of target cell populations 
Advice on downstream processing and choosing of suitable commercial kits for specific needs
For all the services, appointments are required for all users to use these microscopy instruments through an online booking calendar. Advanced Microscopy shared resource provides training sessions to new users on using specific microscope of user's choice to ensure sufficient background knowledge to successfully design experiments, operate the equipment properly and with confidence.
Last updated 05/14/2020