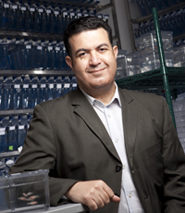 Hatem E. Sabaawy, MD, PhD is an Associate Professor of Medicine & Pathology and Laboratory Medicine at Rutgers Robert Wood Johnson Medical School, an assistant professor of cellular and molecular pharmacology at the Rutgers Graduate School of Biomedical Sciences, director of the Cell and Gene Therapy Good Manufacturing Practice Facility at RWJMS, a member of the executive committee of the Stem Cell Institute of New Jersey, and a principal investigator at Rutgers Cancer Institute of New Jersey Molecular and Regenerative Medicine program.
He had his medical residency and graduate training at Cairo University Hospitals in Cairo, Egypt, and New York Medical College in Valhalla, NY in clinical Hematology with PhD in Genetic Pharmacology from the Gene Therapy program at New York Medical College. Dr. Sabaawy went on to complete a fellowship at the Transplantation and Immunology Branch of the Center for Cancer Research at the National Institutes of Health (NIH) and the National Cancer Institute (NCI) in Bethesda, MD. 
His work at the Cancer Institute of New Jersey focuses on translational research studies of normal hematopoietic stem cells and tumor stem cell development utilizing mouse and zebrafish models. The studies received national funding from the National Institutes of Health and the Department of Defense. These studies aim to identify stem cell targets, genetic modifiers and small molecule inhibitors that would ultimately improve cancer patients' survival. 
Dr. Sabaawy (right) meets with Rutgers University President Jonathan Holloway (left) at the Rutgers Leadership Academy Reception