Helping Cancer Survivors EXCEL through Technology and Education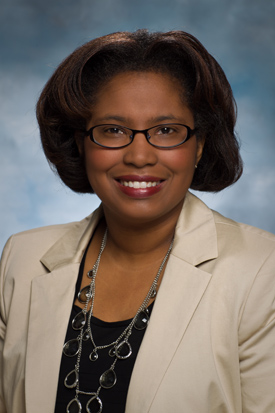 New Brunswick, N.J. – A $3.2 million grant from the National Cancer Institute awarded to Rutgers Cancer Institute of New Jersey research member Shawna V. Hudson, PhD, who is also an associate professor of family medicine and community health and associate director for research at Rutgers Robert Wood Johnson Medical School, will support the development of new technology and a comprehensive education program to address the healthcare management needs of cancer survivors.
According to the National Cancer Institute, there are nearly 13.7 million cancer survivors in the United States, and the number of longer-term survivors -- individuals who finished their treatment two or more years ago -- is increasing.  Approximately 70 percent of survivors have other health issues that require a comprehensive approach to the management of their healthcare, as some of these conditions may have been uniquely impacted by cancer treatment.  Despite this, studies have shown that cancer survivors do not receive preventive care and chronic disease management at recommended intervals.   This new grant aims to address a lack of psychosocial tools to help these longer-term cancer survivors better manage their healthcare needs as they move beyond final treatment.
Hudson and colleagues from the Cancer Institute of New Jersey, Robert Wood Johnson Medical School, School of Arts and Sciences and School of Social Work, all at Rutgers University, will develop and test an Extended Cancer Education for Longer-term Survivors (EXCELS) intervention involving a web and 'smart phone' application and a health coaching component to be carried out via phone conversation with survivors.
The team will first develop intervention content by holding focus groups with survivors and conducting in-depth interviews with care providers to gain an understanding of what they feel would be useful.  Once developed, the intervention program will undergo usability testing with a small group of survivors.  After incorporating their feedback, the program will be rolled out for testing with 480 survivors of breast, prostate and colorectal cancers, who finished their primary cancer treatments at least two years ago.  These volunteers will be recruited from ten primary care practices that are part of the New Jersey Primary Care Research Network.  For 12 months, these individuals will participate in the intervention study and help to thoroughly test the impact of the enhanced education and self-care support materials provided via web and smart phone application and in the health coaching sessions. 
Study outcomes will assess the impact of participating in the intervention program on survivors' use of preventive health services.  Study participants will be asked about ease of accessing the information and usability of the web and phone applications. Phone assessments with participants will be made at the beginning, middle and end of the study, with a final assessment six months following the conclusion of the study.  Ultimately, data from this study will be used to refine the intervention for further testing in other health care settings and locations throughout the country.
"By 2050, the growth rate for cancer survivors is expected to outpace the growth rate for new cancer cases.  Such projections speak to the need for a more comprehensive approach to helping this population better understand their healthcare needs and be more proactive in managing them," notes Hudson. "And by utilizing forms of technology that can be continually enhanced and updated, we can remain ahead of the curve in providing opportunities for survivors to be fully engaged in receiving the care that will be most beneficial to them at the appropriate times."
The grant (R01 CA176838-01A1) will support the work through August 2018.
About Rutgers Cancer Institute of New Jersey
Rutgers Cancer Institute of New Jersey (www.cinj.org) is the state's first and only National Cancer Institute-designated Comprehensive Cancer Center. As part of Rutgers, The State University of New Jersey, the Cancer Institute of New Jersey is dedicated to improving the detection, treatment and care of patients with cancer, and to serving as an education resource for cancer prevention. Physician-scientists at the Cancer Institute engage in translational research, transforming their laboratory discoveries into clinical practice, quite literally bringing research to life.  To make a tax-deductible gift to support the Cancer Institute of New Jersey, call 732-235-8614 or visit www.cinj.org/giving. Follow us on Facebook at www.facebook.com/TheCINJ.
The Cancer Institute of New Jersey Network is comprised of hospitals throughout the state and provides the highest quality cancer care and rapid dissemination of important discoveries into the community. Flagship Hospital: Robert Wood Johnson University Hospital. System Partner: Meridian Health (Jersey Shore University Medical Center, Ocean Medical Center, Riverview Medical Center, Southern Ocean Medical Center, and Bayshore Community Hospital). Major Clinical Research Affiliate Hospitals: Carol G. Simon Cancer Center at Morristown Medical Center, Carol G. Simon Cancer Center at Overlook Medical Center, and Cooper University Hospital. Affiliate Hospitals: CentraState Healthcare System, JFK Medical Center, Robert Wood Johnson University Hospital Hamilton (CINJ Hamilton), Shore Medical Center, Somerset Medical Center, The University Hospital/Rutgers New Jersey Medical School*, and University Medical Center of Princeton at Plainsboro. *Academic Affiliate