Biomedical Informatics
Chief Informatics Officer, Executive Director of Biomedical Informatics:
David J. Foran, PhD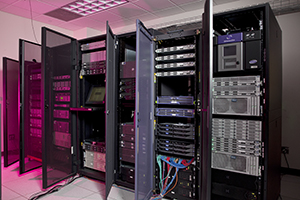 The overarching mission of the Biomedical Informatics Shared Resource is to provide the requisite tools, expertise, and training to foster advances in research and discovery while enhancing patient care and initiating and sustaining productive collaborations among investigators at Rutgers Cancer Institute of New Jersey and throughout the clinical and research communities.
To meet the needs of the new Precision Medicine and Translational programs at Rutgers Cancer Institute of New Jersey this resource now features the Division of Computational Imaging; the Division of Clinical & Research IT; the Division of Chemical Informatics & Drug Discovery; and the Division of Bioinformatics & Systems Biology.
The primary objectives of the Biomedical Informatics Shared Resource are:
To provide support for large-scale, high-throughput analysis of biomedical data
To provide data warehousing and data-mining capabilities to facilitate cancer biology studies and precision medicine initiatives
Migrate and productionalize cutting-edge computational and imaging tools to facilitate clinical trials and services
To provide support for in silico chemical informatics analyses and drug discovery
To provide software and applications development to support web-based and other clinical, research and educational activities
ACKNOWLEDGEMENT OF SHARED RESOURCES
The shared resources of the Cancer Institute of New Jersey are specialized service facilities that support the cancer research efforts of our members.
The shared resources are supported primarily by the Cancer Center Support Grant (CCSG) from the National Cancer Institute. Additional support may be provided from other sources, such as chargeback systems, institutional funding and/or other grants. The support from the CCSG allows the core facilities to provide benefits to Cancer Center members, such as ensured access to services or subsidies to user rates.
Please remember to acknowledge the valuable services provided by Cancer Institute of New Jersey Shared Resources in your research papers, publications and grant applications:
"This research was supported by the [insert name(s)] Shared Resource(s) of the Cancer Institute of New Jersey (P30CA072720)."
(Note: please also consider including the names of individuals from the shared resources if they provided any intellectual input or additional effort.)