eBooks and Audiobooks
The Resource and Learning Center is happy to announce that the library has eBooks and audiobooks that you can download at home.  This is done through the EBSCO website.  Now you don't have to worry about returning a book, the book is returned automatically for you.  We have books on general cancer and specific cancer types, nutrition, general health and wellness, children's books, and biographies.  This service is available for Rutgers Cancer Institute of New Jersey patients and their family members, as well as for staff.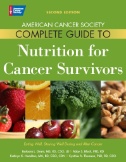 Featured eBook: American Cancer Society Complete Guide to Nutrition for Cancer Survivors
This book tells you what you need to know about eating well before, during and after cancer treatments.  Why not take the book out today!
 

Instructions
You will find everything you need in order to download an eBook or audiobook from the links below.  It may be useful to print out the instructions.
View the list of our available eBooks and audiobooks.
If you are a first time user, visit this page to find out how to access our eBooks on your computer.
Click here to learn how to download an eBook to an eReader that is compatible with Adobe Digital Editions.  This would include Nook, Kobo, Sony, Kindle Fire as well as other android devices.  Sorry but the Kindle eReader is not supported.
Click here to learn how to download an eBook to an Apple Device.  This would include an iPad, iPhone and iPod touch.
Click here to learn how to download an audiobook.

For help with making your account or downloading an eBook or audiobook, please call the library at 732-235-9639 during normal business hours. 
You can also click here which will bring you to the EBSCO help page.
October 1, 2015