Melanoma and Soft Tissue Oncology Program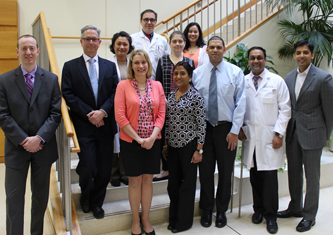 The Melanoma and Soft Tissue Oncology Program provides comprehensive care to patients with melanoma and sarcoma and involves a dedicated team of specialists including surgical oncologists, radiation oncologists, medical oncologists, radiologists, pathologists, nurses and social workers. Each patient's case is discussed and reviewed among the entire team and a treatment plan is formulated according to the patient's medical condition and estimated risk of recurrence.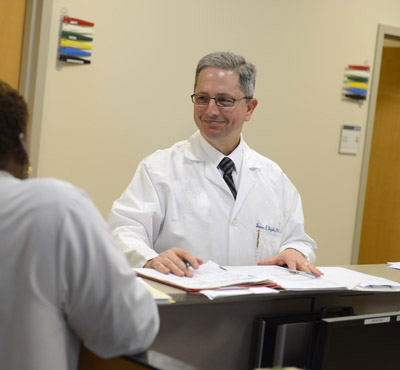 State-of-the-art evaluation, including sentinel lymph node biopsies by New Jersey's leading melanoma surgeons, assures an accurate staging and initial evaluation. In keeping with the mission of Rutgers Cancer Institute of New Jersey to improve upon currently available therapies, experimental adjuvant therapies or clinical trials are offered to patients at the highest risk of recurrence. Clinical trials offer a wide array of approaches toward fighting cancer - including standard chemotherapy, immunotherapy, biologic therapy and exciting new drugs under development - are available to help control disease and reduce the toxicity usually associated with treatment. In addition to some of the most promising new therapies, and in recognition that cancers affect not only the individual afflicted but his/her entire family, a social worker is assigned to each family as needed to help them cope with this serious and often frightening disease.
Clinical Trials:
Useful Links:
Staff of this Program:

James S. Goydos, MD, Director, Melanoma and Soft Tissue Oncology Program and Surgical Oncologist 
Alan Cohler, MD, Radiation Oncologist 
Sharad Goyal, MD, Radiation Oncologist
Howard L. Kaufman, Surgical Oncologist and Chief Surgical Officer
Atif Khan, MD, Radiation Oncologist 
Vadim Koshenkov, MD, Surgical Oncologist
Sung Kim, MD, Radiation Oncologist
Janice Mehnert, MD, Medical Oncologist
Ann Silk, MD, Medical Oncologist
Carmela Hoefling, RN, MSN, AP-C, AOCNP, Advanced Practice Nurse
Chandrika Jeyamohan, RN, MSN, APN-C, CCRC, Advanced Practice Nurse
Doris Pindill, MS, APN-C, AOCNP, Advanced Practice Nurse
Loleta Samuel, MSN, RN, APRN, BC, AOCN, Advanced Practice Nurse
Barbara Hale, MSW, LCSW, Social Worker