Flow Cytometry / Cell Sorting
Home | Services | Equipment | Service Request Form
Director: Debra L. Laskin, PhD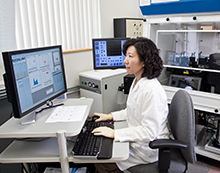 The Flow Cytometry/Cell Sorting Shared Resource provides investigators with rapid and precise multiparameter analysis of cells and particles. The overall purpose of the Shared Resource is to provide access to high-end technologies and expert assistance with various techniques in flow cytometry and cell sorting.
The specific objectives of this shared resource are:
To provide Cancer Institute members with a powerful array of analytical cytometry and cell sorting techniques
To provide Cancer Institute members with detailed protocols and expert consultation in experimental design to optimize data generation
To provide Cancer Institute members with expert consultation in data analysis, presentation, and publication
ACKNOWLEDGEMENT OF SHARED RESOURCES
The shared resources of the Rutgers Cancer Institute of New Jersey are specialized service facilities that support the cancer research efforts of our members.
The shared resources are supported primarily by the Cancer Center Support Grant (CCSG) from the National Cancer Institute.  Additional support may be provided from other sources, such as chargeback systems, institutional funding and/or other grants. The support from the CCSG allows the core facilities to provide benefits to Cancer Center members, such as ensured access to services or subsidies to user rates.
Please remember to acknowledge the valuable services provided by Cancer Institute Shared Resources in your research papers, publications and grant applications:
"This research was supported by the [insert name(s)] Shared Resource(s) of The Cancer Institute of New Jersey (P30CA072720)."
(Note: please also consider including the names of individuals from the shared resources if they provided any intellectual input or additional effort.)