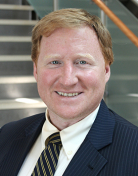 Timothy Kennedy, MD, MBA
I joined Rutgers Cancer Institute of New Jersey as an Associate Professor of Surgery in the Gastrointestinal (GI) Oncology Program.  My areas of expertise are in minimally invasive approaches to upper gastrointestinal malignancies, including advanced laparoscopic and robotic techniques.  I have also developed an expertise in cytoeductive surgery and hyperthermic intraperitoneal (HIPEC) malignancy for the treatment of patients with peritoneal surface malignancy.
I completed my medical school training at Georgetown University School of Medicine, followed by a general surgery residency at Northwestern University.  During my time at Northwestern I spent two years in a basic science laboratory studying various aspects of pancreatic cancer development. During that time I also attended Northwestern's Kellogg School of Management and earned a Masters of Business Administration with a focus on Healthcare Management & Strategy. Following my time at Northwestern University I completed a two year surgical oncology fellowship at Memorial Sloan Kettering Cancer Center with a focus on gastric, pancreas and hepatobiliary malignancies.  Subsequently I completed a second fellowship in advanced minimally invasive surgery to develop expertise in advanced laparoscopic, endoscopic and robotic techniques for the management of patients with GI cancers.
Following completion of surgical oncology and minimally invasive surgery fellowships, I spent the past six years at Montefiore Medical Center/Albert Einstein College of Medicine as an Assistant Professor of Surgery in the section of upper gastrointestinal and pancreas surgery.  During this time I utilized minimally invasive techniques in management of many patients with esophageal, gastric, and pancreatic malignancies.  I also served as principal investigator on a Phase II clinical trial utilizing CRS and HIPEC for patients with peritoneal surface malignancy from peritoneal mesothelioma, pseudomyxoma peritonei, appendiceal cancer, colon cancer and gastric cancer. 
As a member of the Gastrointestinal/Hepatobiliary Program at Rutgers Cancer Institute of New Jersey, I will work collaboratively with other members of our multidisciplinary team including medical oncologists, radiation oncologists, gastroenterologists, radiologists, pathologists, genetic counselors, nutritionists, social workers, and nurses to help educate patients about their disease and help them navigate their treatment options.  I am also interested in clinical trials and will work closely with a dedicated clinical trials team to increase trials available to our patients with gastrointestinal cancer and help guide patients through this process.
Clinical Expertise
Gastric cancer, pancreas cancer, stomach cancer, peritoneal surface malignancy, and hepatobiliary cancer
Honors
Castle Connolly Top Doctors, New York Metro Area, 2011-2015
 
SAGES Karl Storz/IRCAD Traveling Fellowship Award, 2009