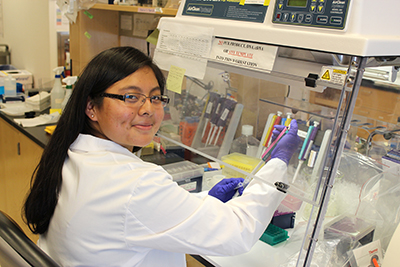 Cancer research education, training and career enhancement activities at Rutgers Cancer Institute encompass a broad spectrum of formal training programs, seminars, conferences and educational events spanning the academic continuum from Middle School through Postgraduate with Career Enhancement continuing to include faculty. 
The Office of Education and Training works closely with the leadership and program directors at Rutgers Cancer Institute, Rutgers University and, in some cases, other institutions:
To develop and implement programs that leverage the strength of Rutgers Cancer Institute in training the next generation of basic, clinical, and population researchers and the broad-based population
To provide Rutgers Cancer Institute-supported seminars, conferences and retreats to impart the most up to date information for the education of trainees, faculty, and the community
To provide state-of-the art career enhancement opportunities to Rutgers Cancer Institute faculty
Rutgers Cancer Institute Research Programs and Activities
BOLD is unique week-long summer learning opportunity for students who have an interest in learning about cellular biology and genetics of cancer, as well as the diverse careers connected to the field.
 
BioCONECT is an integrated curriculum supplement that enhances learning by encouraging students to transfer their knowledge of biology and genetics to real-life situations using breast cancer as the context. The overall goal of the curriculum is to improve science skills and increase awareness of breast cancer among high school students.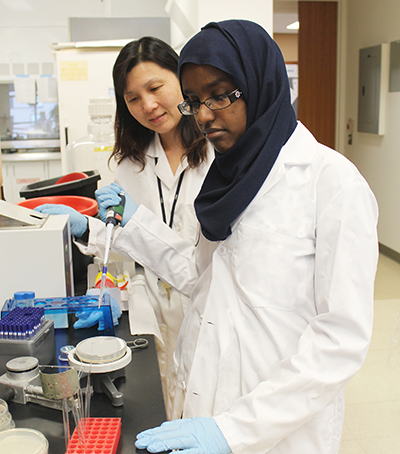 The Rutgers University Youth Enjoy Science (RUYES) program seeks to encourage youth from groups that are underrepresented in the biomedical sciences to pursue cancer research and healthcare careers. 
The joint Ludwig Princeton and Rutgers Cancer Institute summer internship program will provide hands-on training to conduct research on the molecular events leading to the onset and progression of cancer. In addition to participating in cutting edge cancer research in laboratories at Princeton University or Rutgers Cancer Institute of New Jersey, students will have opportunities to attend lectures by cancer researchers. 
This internship program supports undergraduate academic and research training to help ensure that a diverse and highly trained workforce is available to assume leadership roles in Cancer Immunotherapy and Immune Monitoring research.
First year Medical Students from underrepresented groups are invited to apply for a unique summer experience to explore a career in the field of oncology while giving back to their community.  Applicants should have an interest in obtaining experience in a clinical field of oncology (medical, surgical or radiation oncology), clinical and translational oncology research, as well as a desire to contribute to developing the next generation of clinicians and scientists by serving as mentors to youth from underrepresented groups in the Rutgers University Youth Enjoy Science (RUYES) program.
 
This program leverages these unique research strengths and resources of Rutgers Cancer Institute to provide training in translational research in Cancer Metabolism and Growth and Tumor Host Interactions. The primary goal of this T32 training program is to provide postdoctoral candidates with the highest quality training and research experience so that they are competitive in developing research careers in academia, government, and the private sector.

 

Clinical Associate / Clinical Associate Investigator Memberships
Clinical Associate Membership at Rutgers Cancer Institute Overview (PDF)
Clinical Associate Investigator Membership at Rutgers Cancer Institute Overview (PDF)


Collaborative Training Activities Between Rutgers Cancer Institute and Other Institutions
The goal of this program is to increase opportunities for and the success of PhD students from groups historically under-represented in the biological/biomedical sciences.
 
This program exposes life science PhD students and postdoctoral students to non-academic career options and empowers them to pursue their career goals. The iJOBS programming has now expanded to all campuses of Rutgers University as well as Princeton University, Rowan University, New Jersey Institute of Technology and Stevens Institute of Technology. iJOBS offers programming to broaden trainee's perspectives, experiences and knowledge to facilitate pursuit of research and research-related academic or private sector careers.
 
Meetings, Seminars and Courses

Meetings

Annual Retreat for Cancer Research in New Jersey
Co-sponsored by the New Jersey State Commission on Cancer Research (NJSCCR), the Annual Retreat provides presentations from investigators across programs at the Rutgers Cancer Institute, as well as consortium members and additional institutions. It hosts up to 500 attendees annually and includes both podium and poster presentations. This one-day event includes minisymposia developed by each of the Rutgers Cancer Institute programs, a Public Forum Symposia designed to bring the most up to date research information to the community, and presentations by shared resource directors and managers at the Rutgers Cancer Institute.
Seminars
View all program meetings and events at the Cancer Institute
 
The Distinguished Lecture Series (webcast)
This monthly seminar series invites prominent scientists from around the country to visit the Rutgers Cancer Institute. The series has featured Nobel laureates, members of the National Academy of Sciences, and other preeminent researchers. Each lecture attracts more than 100 attendees from multiple research programs across the consortium. Speaker are proposed by faculty and program leaders and invited by the Director of the Cancer Institute. Trainees have an opportunity to lunch with speakers during their visit. 
 
Cancer Center Grand Rounds (webcast)
This weekly seminar series invites hosts clinical/translational speakers from prominent research institutions. In addition to providing important research updates, the series provides an opportunity to discuss new research collaborations and allows the Rutgers Cancer Institute of New Jersey trainees to meet with a wide range of leaders in the field. Speakers are chosen and invited by program leaders and faculty assure integration with the program science. Trainees have an opportunity to lunch with speakers during their visit. This is a CME accredited series.
 
Department of Radiation Oncology Grand Rounds (webcast)
This series occurs the first Tuesday of every month September through June and is focused on issues of specific interest to the radiation oncology community. Speakers are chosen and invited by program leaders and faculty to assure integration with the program. This is a CME accredited series.
 
The Graduate Student/Fellow Seminar Series
This weekly conference features work-in-progress presentations from students and/or fellows at the Rutgers Institute of New Jersey. All trainees at the Rutgers Cancer Institute are required to present their work every year thus contributing to their career development. 
 
Grant Writing Seminar
The university sponsors full-day as well as multi-session grant writing programs provided by highly-rated external consulting firms. For example, over the last two years, Rutgers Biomedical and Health Sciences (RBHS) sponsored a full-day Grant Writers Workshop titled "Write Winning Grant Proposals," which was attended by newly-recruited faculty from the Rutgers Cancer Institute.
 
Topics in Molecular Medicine (Rutgers Course 16:681:681)
This is a graduate level course taught by Cancer Institute faculty members during the fall semester of each year.  The sessions follow a journal club format.  The students discuss a research paper which is selected by the faculty member moderating that session.  The objectives of this course are to: 1) introduce students to molecular approaches used to prevent, diagnose or treat cancer; 2) develop skills to critically review cancer research literature; and 3) develop effective scientific communication skill.
 
Byrne Seminar: Eliminating Cancer: Novel Targets and Therapeutic Approaches (Rutgers Course 01:090:101:12)
Through this seminar series held in the fall semester of each year, incoming freshman undergraduate students at Rutgers are introduced to the novel approaches being used for target identification and treatment at the Cancer Institute and how these are being translated into cutting edge treatments for cancer patients. The seminar has ten sessions of eighty minutes each.  Dr. Chaudhary provides a basic introduction to the biology of cancer, followed by talks from Cancer Institute faculty speakers on tools for identifying novel targets, diagnosis, and prognosis in disease specific areas (melanoma, breast cancer, pancreatic cancer, prostate cancer, and hematological malignancies).  The first half of each disease specific session is led by a basic researcher and focuses on the biology, while the second half is led by a clinician and focuses on the targets and therapy.

Courses
 
Clinical Research Design
Taught by faculty at the Rutgers Cancer Institute of New Jersey, the goals of this 13-lecture introductory course are to:
Provide a basic understanding of concepts, research methodologies, biostatistical tools and ethical and regulatory procedures in patient-oriented research
Train scholars to interpret the results of clinical investigations 
Utilize the knowledge gained for research and patient care
Topics covered in the course include:
Hypothesis-based research
Clinical research design
Epidemiology
Clinical trials
Statistical methods
Ethical issues in clinical investigation
This course is offered to postgraduate trainees at the Rutgers Cancer Institute, postdoctoral fellows in our translational research training program, and junior faculty. Due to increased demand in the last year, participation has been expanded to Rutgers Robert Wood Johnson Medical School faculty as part of their formal mentoring program.
 
Basic Science Tutorial for Translational Research 
In order to assure that all trainees have a common basal level of basic science knowledge related to cancer, all trainees participate in a "tutorial" program in basic science fundamentals for cancer research in the fall of their first year in the program. This tutorial consists of nine informal "blackboard" sessions of one to one and a half hour in length, during which program faculty will discuss with the new trainees the basic science principles essential for translational cancer research. This tutorial will include three sessions on the fundamentals of cancer molecular biology, three sessions on fundamental immunology and three sessions on the fundamentals of pharmacology.
 
Translational Research in Cancer Seminar
This seminar meets twice monthly and includes a short didactic section given by a relevant member of the training faculty followed by discussion of papers and "work in progress" by the trainees. Each trainee and their mentor present an overview and discussion of results once per year. The remaining sessions follow the form of a disease based course focusing on basic, clinical and translational issues in particular malignancies, providing an overview of disease characteristics. Subjects and papers are chosen to give a comprehensive understanding of the etiology, biology and therapy of the various malignancies. an additional advantage of this approach is that ongoing research and literature papers are discussed providing examples of studies encompassing both laboratory and clinical aspects of translation. This exposes them to "cutting edge" translational approaches to the prevention, diagnosis and treatment of cancer.
Career Enhancement Opportunities for Rutgers Cancer Institute of New Jersey Junior Faculty

Objective Analysis of Self and Institution Seminars (OASIS)
 
Rutgers Program for Early Career Excellence (PECE)
  
Training in Responsible Conduct of Research
All faculty and trainees are required to complete a course in Responsible Conduct of Research. Designed following NIH requirements as to frequency, content, duration, and participation by faculty (including Rutgers Cancer Institute faculty), the course is managed by the Rutgers Robert Wood Johnson Medical School. 
Faculty and staff conducting clinical research are also required to complete Collaborative Institutional Training Initiative (CITI) training provided by Rutgers Office of Research Regulatory Affairs. The Rutgers Cancer Institute Office of Human Research Services maintains records of completion of CITI training for all Rutgers Cancer Institute faculty and staff and provides reminders for regular refresher training. Similar courses are required by our Princeton consortium institution

Grant Writing Seminar
See description above
 
Clinical Research Design Course
See description above