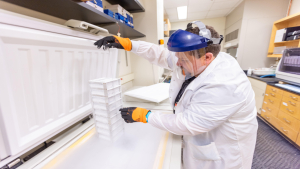 One of the primary responsibilities of a National Cancer Institute (NCI)-designated Comprehensive Cancer Center is to conduct high-impact research that will advance the prevention and treatment of cancer. Continuously funded by the NCI through a Cancer Center Support Grant (P30CA072720), Rutgers Cancer Institute of New Jersey upholds its NCI designation with significant engagement in clinical, basic, and population-based cancer research. Our researchers conduct matrix-style investigations that bridge these scientific areas together into one coordinated effort in the fight against cancer.  
Rutgers Cancer Institute attracts investigators from a wide range of scientific disciplines. Based on the research strengths of our members, our research programs are organized into five programs that foster interdisciplinary coordination and collaboration. 
---
Program aims are to identify new approaches to improve cancer treatment by studying changes in tumor cell metabolism, growth, proliferation, survival, and tumor-host interaction. 
Program Leaders: Wei-Xing Zong, PhD and Christian Hinrichs, MD
---
Program aims are to identify biomarkers and therapeutic targets by studying and defining tumor cell genomes, repair mechanisms, and gene expression. 
Program Leaders: Chang S. Chan, PhD, and Cristina Montagna, PhD
---
Program aims are to discover and develop more effective cancer treatments. 
Program Leaders: X. F. Steven Zheng, PhD and Stephen K. Burley, MD, DPhil
---
Program aims are to promote the translation of pre-clinical science into early phase cancer trials to develop new diagnostic, preventive, and therapeutic strategies. 
Program Leaders: Shridar Ganesan, MD, PhD and Wadih Arap, MD, PhD  
---
Programs aims are to reduce cancer burden in New Jersey and beyond by examining and improving clinical and public health practice and policies across the cancer control continuum. 
Program Leaders: Carolyn J. Heckman, PhD and Elisa V. Bandera, MD, PhD 
---
Calendar of Program Meetings & Events for Cancer Institute Members