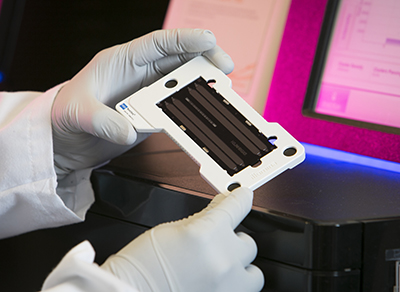 Quality Control and DNA/RNA Analysis 
Fluidigm Biomark and Trinean DropSense to assess the quality of DNA and RNA samples, and BioMicrolab VolumeCheck, for non-contact quality control of sample volumes.
Sample Preparation and Nucleic Acid Extraction, Library Preparation 
Instruments are integrated into robotics/automated workflows to ensure sample integrity. This includes Qiagen QIAsymphony, Qiagen Autopure, ChemimagicSTAR, Qiagen QIAcube, and Qiagen EZ1Caliper. Fully automated library preparation is supported using Caliper SciClone.
Next Generation Sequencing Technologies
Illumina HiSeq2500 and NextSeq 500/550 are capable of whole genome/transcriptome and mitochondrial DNA sequencing; a MiSeq benchtop unit is ideal for smaller sample sets and/or targeted sequencing. Genomics also offers alternative chemistries for high-quality library preparation using products by NuGEN. Together, they give the shared resource the flexibility to process sample sets of any size or origin.
PCR-base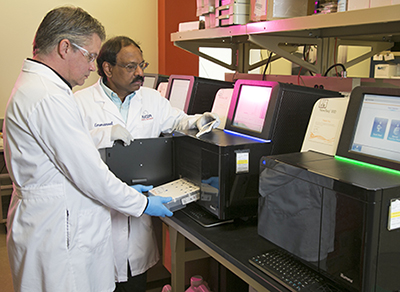 d Sequencing
Platforms include QPCR (Agilent Technologies Stratagene Mx3005P QPCR System), Raindance Digital Droplet PCR systems, and Fluidigm single-cell sequencing.
DNA Microarray Technologies
The Affymetrix GeneChip system is controlled by a Dell Optiplex GX150 computer and includes an Agilent Technologies GeneArray Scanner, a GeneChip Fluidics Station 400 and a GeneChip Hybridization Oven 640.
Last updated 05/14/2020