The Women's Circle of Health Study aims to evaluate factors explaining the earlier age at diagnosis and the more aggressive nature of breast cancer among Black women, compared to White women.  This is a collaborative study involving several institutions, including Rutgers Cancer Institute of New Jersey, Roswell Park Comprehensive Cancer Center, the New Jersey Department of Health, and Rutgers School of Public Health.
Participants are being recruited in ten counties in New Jersey (Bergen, Burlington, Essex, Hudson, Mercer, Middlesex, Passaic, Monmouth, Union, and Camden).  The study initially recruited Black and White women with and without breast cancer. We are now recruiting only Black women newly diagnosed with breast cancer.  Women with breast cancer are identified through the New Jersey State Cancer Registry.
 
What does the study involve?
The interview takes approximately
2 hours and includes:
Answering questions about lifestyle factors such as diet and exercise, pregnancies, as well as questions regarding medical history.
Measuring body size such as weight, height, and waist and hip circumferences.
Providing a saliva sample.
In appreciation for donating time to this important study, women completing all study materials are provided with a $50 gift certificate.
 
You should also know:
Your privacy is our concern.  All your information is kept confidential
We can come to your home or find a mutually convenient place to meet
 
Principal Investigators
What's New: Women's Circle of Health Follow-Up Study
Starting in 2014, women with a new diagnosis of breast cancer taking part in the Women's Circle of Health Study were invited to participate in the Women's Circle of Health Follow-Up Study. This will be one of only a few studies focused entirely on issues faced by Black women after a breast cancer diagnosis.  See our newsletters for more information.
Principal Investigators for the Women's Circle of Health Follow-Up Study: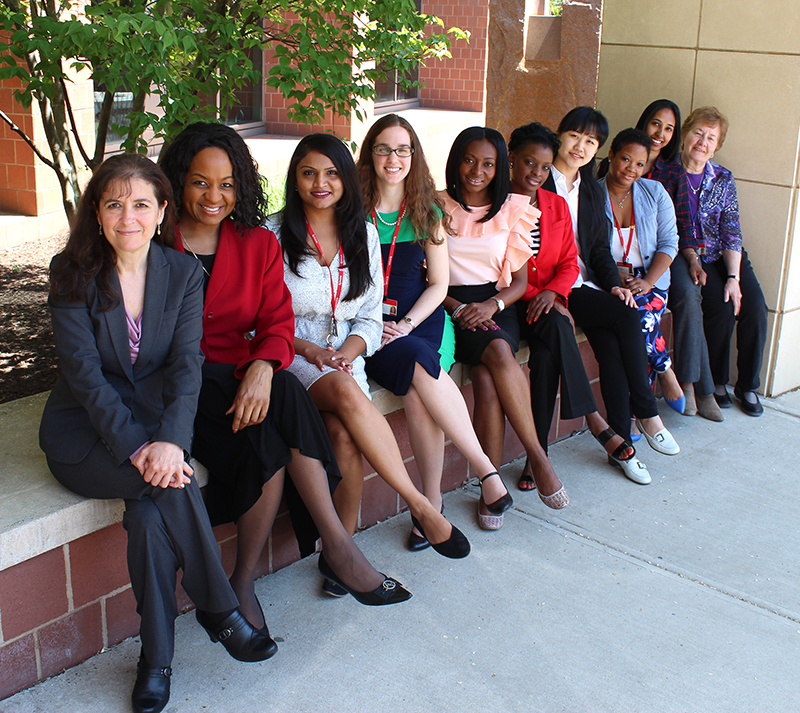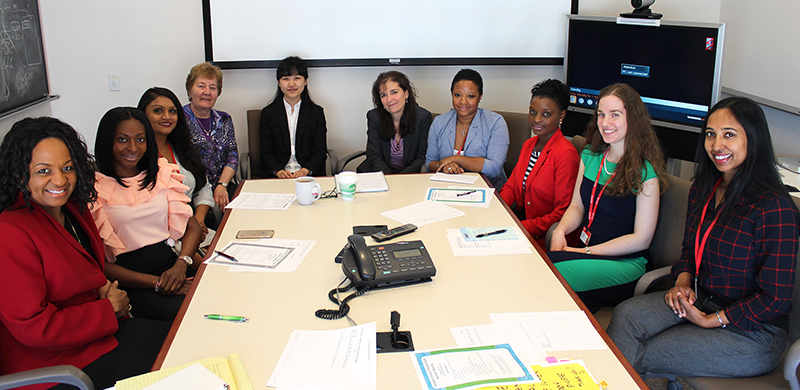 At the Women's Circle of Health Staff Meeting at Rutgers Cancer Institute of New Jersey, May 2015. From left to right: Edie Prescod, Dr. Adana Llanos, Hiral Shukla, Frances Merlino, Bo (Bonnie) Qin, Dr. Elisa Bandera, Nakia McCall, Simone Francis, Elizabeth Szamreta, and Thanusha Puvananayagam.