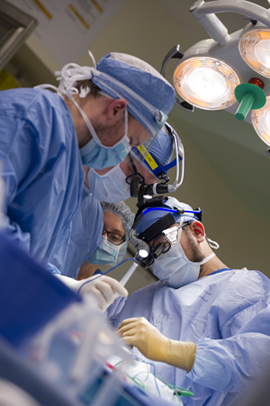 Rutgers Cancer Institute of New Jersey offers a multidisciplinary Neuro-Oncology Program for adults and children. The Program specializes in the treatment of primary head and neck cancers, brain and spine tumors such as squamous cell carcinoma, basal cell cancer, glomus tumor, paragangliomas, acoustic neuromas, salivary gland and mucosal tumors, astrocytomas, oligodendrogliomas, glioblastomas, and hemangioblastomas, and metastatic tumors that may have arisen from elsewhere in the body such as the breast, lung, or prostate. The team of highly specialized experts consists of neurosurgeons, neuro-oncologists, otolaryngologists, head and neck surgeons, radiation oncologists, neuropsychologists, nurses, and rehabilitation specialists who review cases in a formatted multidisciplinary approach.
Patients receive a personalized, comprehensive approach to care for their benign and malignant brain tumors and are evaluated for multimodality treatments such as chemotherapy, minimally invasive surgical options, and radiation therapy including proton therapy and gamma knife.

Physicians and scientists work closely together to continually improve the ways in which we diagnose and treat head and neck, brain and spine tumors, and offer our patients access to innovative techniques, new drugs, and clinical trials of the most-advanced treatment approaches. Physicians are actively involved in developing these innovative approaches and also participate in national collaborative group clinical trials.
---