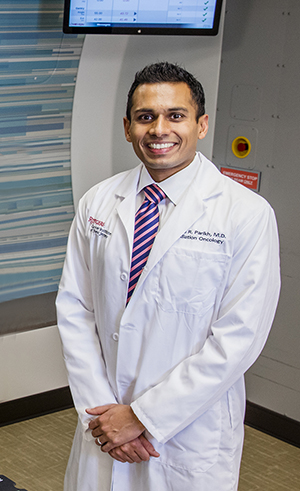 CyberKnife, as well as other types of advanced radiation treatment devices (such as image guided Linac [Linear Accelerators] and Tomotherapy), are used in a type of radiation therapy called stereotactic radiotherapy, also known as stereotactic body radiotherapy or SBRT. Stereotactic radiotherapy destroys tumors with precise, very intense doses of radiation while limiting damage to healthy tissue, offering accuracy that is similar to the sharpness of a surgeon's knife. In stereotactic radiotherapy, stereotactic radiation devices deliver radiation with beams of fast-moving subatomic particles. The beams are precisely directed through the use of advanced imaging technologies combined with a sophisticated computer guidance system. Currently, the stereotactic radiation devices include image-guided Linac, Tomotherapy, and CyberKnife.
Rutgers Cancer Institute radiation oncologist Rahul R. Parikh, MD, employs SBRT to treat prostate cancer using the image guided Linac (TrueBeam, for example) and/or Tomotherapy. TrueBeam STX, Tomotherapy, and CyberKnife are all brand names for advanced stereotactic radiotherapy devices, all of which may be used for SBRT treatments for prostate cancer.
The benefit of stereotactic radiotherapy or SBRT for prostate cancer patients is that all of the definitive treatment for a patient's prostate cancer may be accomplished in just five short treatments.    
– Dr. Rahul Parikh
The machines that Dr. Parikh uses to deliver highly effective SBRT incorporate computed tomography (CT) imaging into the same device that delivers the radiation. This allows the radiation therapists to make sure patients remain in the proper position during radiation therapy and to adjust the radiation beams as needed. The main distinguishing feature of CyberKnife is that the linear accelerator is mounted on a robotic arm. While this offers more flexibility and freedom of movement in how the radiation beam is delivered, this is not necessary for the treatment of prostate cancer. In contrast, CyberKnife technology does not incorporate a CT imaging machine into the device and takes approximately three to five times longer to deliver the same dose of radiation than the imaged guided Linac or Tomotherapy machines.
For more information or to find out if stereotactic radiotherapy (SBRT) is the right option for you and your prostate cancer, call us at 732-253-3939 to meet with Dr. Parikh.