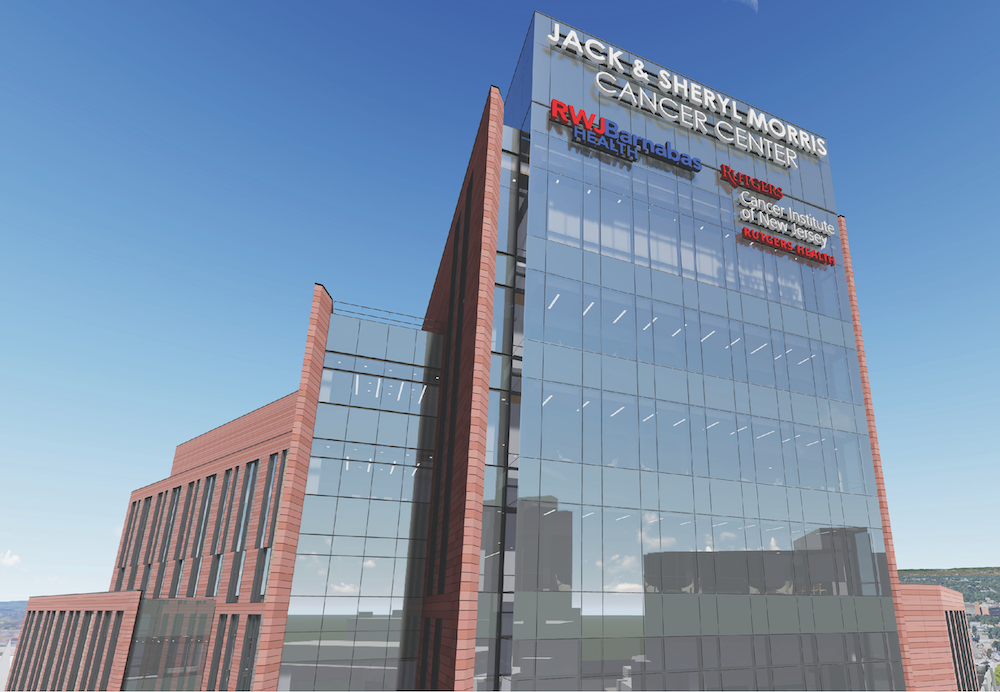 The new Jack and Sheryl Morris Cancer Center is a state-of-the-art, freestanding cancer hospital featuring outpatient and inpatient capacity coupled with research laboratories, retail space and ancillary services devoted to patient wellness and is a first of its kind in New Jersey.
The center, named in recognition of the philanthropic leadership of Jack Morris, who has been a longtime supporter and pillar in New Brunswick development, and his wife, Sheryl will include the wide-ranging advanced oncology care services offered by Rutgers Cancer Institute and RWJBarnabas Health, all under one roof — greatly enhancing the patient experience and providing further ease of access.
The 12-story, 520,000 square foot center also will house state-of-the art research laboratories. As an NCI-designated Comprehensive Cancer Center, research is a core pillar of Rutgers Cancer Institute. The ability to translate scientific findings – literally – from 'bench to bedside' and back to the laboratory will provide our physician-scientists with more immediate feedback on clinical trials. This information will enable them to improve clinical assessment, further tailor patient treatments, and collect important research data in a more rapid and direct fashion.
"We know that cancer doesn't travel well, and patients shouldn't have to leave the state or go far from home to receive the best care possible. This requires collaboration and an integrated multidisciplinary network of exceptional cancer specialists and researchers who are revolutionizing care. From treatment through survivorship, patients at all stages of their cancer journey will have their needs seamlessly met here -- all in the same location," said Dr. Steven K. Libutti, director, Rutgers Cancer Institute and senior vice president, oncology services, RWJBarnabas Health, during his remarks at the November 2022 topping off ceremony.  Watch here
The Jack and Sheryl Morris Cancer Center will also have the capacity to offer wellness and education resources. From massage, to gentle exercise, a wellness garden and boutique offerings catered specifically to the needs of survivors and patients undergoing active treatment, such services help enhance quality of life and provide solace and convenience for patients, caregivers and families. 

Outpatient care: 84 infusion bays, 74 exam rooms, advanced radiology including four linear accelerators, diagnostic equipment (CT, MRI, mammogram and other equipment with core lab), pharmacy facilities and outpatient urgent care.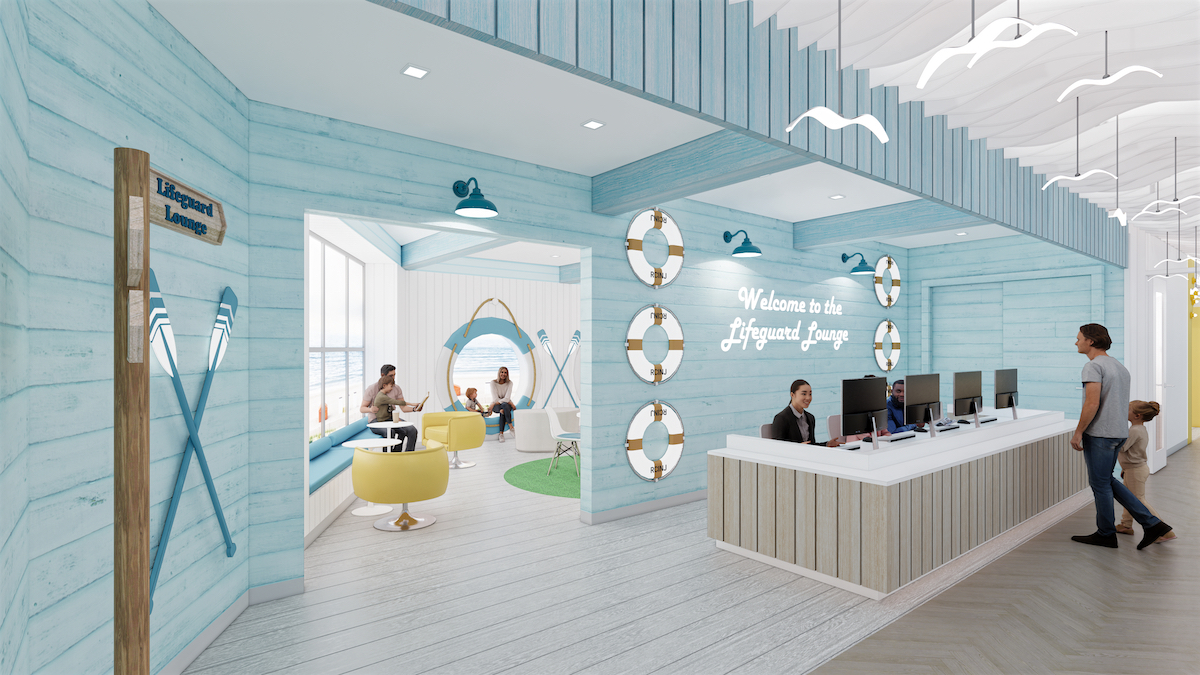 Inpatient care: 96 inpatient beds on three floors, a dedicated floor for surgical and procedure rooms (up to 11 total), a central sterile processing area and inpatient support spaces.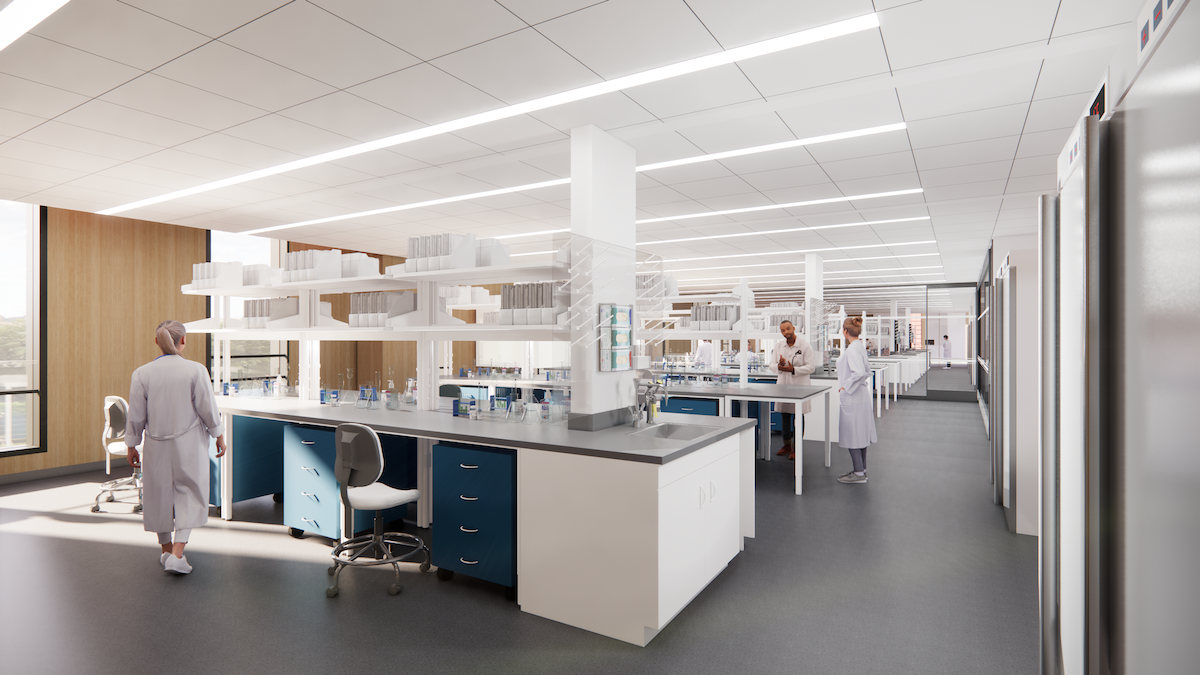 Research: Wet lab facilities and equipment to support 10 research teams, clinical trial offices and faculty offices.
This integrated model speaks to treating the 'whole' patient in a comprehensive and compassionate fashion throughout all phases of their cancer journey. From diagnosis, to treatment, to survivorship, the new Jack and Sheryl Morris Cancer Center will serve as a beacon of hope and a destination who need it the most. The facility is expected to be completed at the end of 2024.
Dr. Steven Libutti, director of Rutgers Cancer Institute and Senior Vice President, Oncology Services, RWJBarnabas Health discusses the state's first free-standing cancer hospital. 
A Commitment to our Community
As part of a strong commitment to the residents of New Brunswick and a mission to create healthier communities, opportunities will be available for local business and contractors, and local hiring will be a priority. Since construction began on the new cancer center and the Blanquita B. Valenti Community School that is part of the Morris Cancer Center project, more than 1,000 local construction jobs have been created. Upon completion, between 500-600 professional positions will be available. 
In partnership with Rutgers Cancer Institute of New Jersey, RWJBarnabas Health, New Brunswick Development Corporation (DEVCO), and The City of New Brunswick – Middlesex County invested $25 million in the project. Workforce training and education continue to be offered to job applicants through a partnership with Middlesex College and others to foster innovation and discovery, and provide an environment filled with robust educational prospects for Middlesex County residents. Read more
'Topping Off' Celebrates the Future of Cancer Care
The Jack and Sheryl Morris Cancer Center is part of an overall major investment of RWJBarnabas Health and Rutgers Cancer Institute to expand and transform oncology services across the state. At the 'topping off' event in November 2022, a ceremonial steel beam was raised atop the 12-story structure, symbolizing another major milestone achieved for the project. Dr. Libutti remarked, "This piece of steel will soon be covered over, but it will remain as the symbolic heart of this project. It represents the commitment of all involved in bringing this new building to fruition, as well as the dedication of all who will come to work here every day with a shared mission of fighting and ending cancer. And most importantly, this beam represents the promise of hope to those who will walk through these doors and will count on us to enable improved cancer outcomes for those in our state and beyond." Watch here
Breaking Ground on the Future of Cancer Care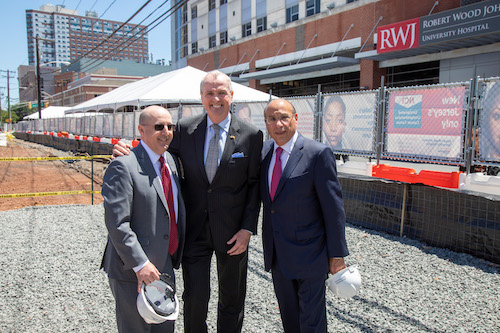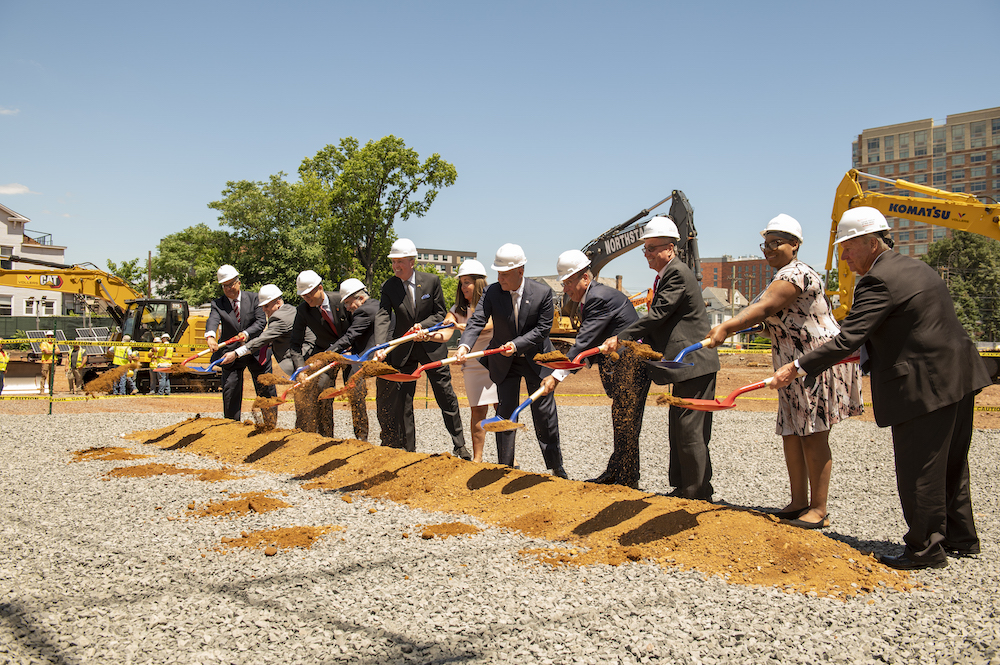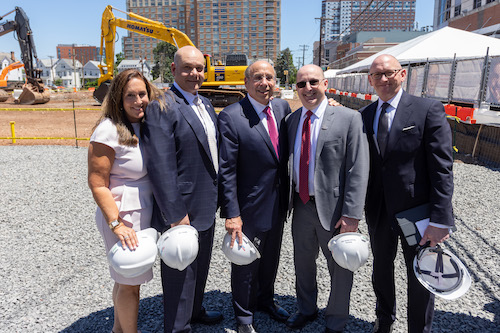 RWJBarnabas Health and Rutgers Cancer Institute, in partnership with the New Brunswick Development Corporation, broke ground in June 2021 on the Jack and Sheryl Morris Cancer Center. Governor Murphy, Middlesex County Freeholder Director Ronald G. Rios, New Brunswick Mayor Jim Cahill, New Brunswick Development Corporation President Chris Paladino, and Rutgers University President Jonathan Holloway, joined health care leaders and others for the event.  
Watch here
Philanthropic support from individuals, families, and organizations will play a significant role in realizing the full impact of the remarkable shared vision of the Jack and Sheryl Morris Cancer Center. For information on giving in support of the Cancer Center, please contact the Rutgers Cancer Institute of New Jersey Development Team at cinjdevelopment@ruf.rutgers.edu.