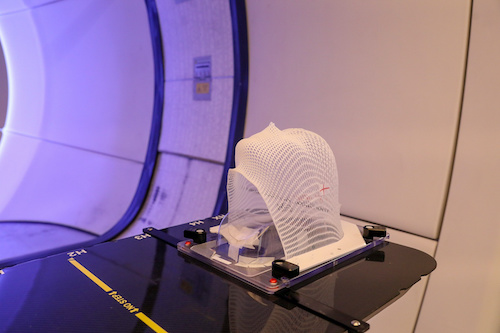 Rutgers Cancer Institute and Robert Wood Johnson University Hospital are pleased to offer the Gamma Knife Perfexion, a noninvasive tool specifically designed to treat many brain conditions including brain tumors and brain cancer.
We are only facility in New Jersey that is a member of the North American Gamma Knife Consortium.
The Gamma Knife is not a regular knife. There are no blades and the physician does not make any incisions in your head. Instead, the Gamma Knife uses radiation. This approach, known as radiosurgery, focuses radiation directly, and very precisely, on the targeted area of the brain without affecting surrounding healthy tissue.
The radiation source used is called cobalt-60. There are approximately 192 sources of cobalt-60 loaded within the Gamma Knife unit. Thousands of radiation beams can be generated with a level of accuracy of more than 0.5mm, about the thickness of a strand of hair. Individually, each radiation beam is too weak to damage the normal tissues it crosses on the way to the target. But when focused precisely on that target, the beams intersect and the combined radiation is sufficient to treat the targeted area.
To receive more information
about Gamma Knife
call 732-418-8002
Because Gamma Knife radiosurgery is so accurate, the full dose of radiation can be delivered during a single session, compared with multiple visits for linear accelerator (linac) treatments, which use lower doses delivered in fractions (fractionated treatment).
Gentle, Noninvasive Treatment
Since no incision is made, the patient's head does not need to be shaved, and the risk of surgical complications is low. Patients may experience side effects, but they are often very mild. Headache, dizziness, seizures or nausea may be experienced immediately after the treatment, but the effects will disappear soon after the procedure.
Conditions Treated with Gamma Knife
The following is a partial list of conditions treated using the Gamma Knife at Rutgers Cancer Institute and Robert Wood Johnson University Hospital:
Primary brain tumors
Metastatic brain tumors
Acoustic neuromas
Meningiomas
Pituitary adenomas
Arteriovenous malformations (AVM)
Gamma Knife is the most accepted and widely used radiosurgery treatment in the world. In 1968, the first Gamma Knife was installed at a hospital in Sweden. The first Gamma Knife in the U.S. was installed in 1987. About half a million people have undergone Gamma Knife treatment, and it's the only radiation therapy system cleared by the FDA for irradiating brain metastases. More than 30,000 patients every year worldwide are treated with Gamma Knife surgery.
Latest Technology: Gamma Knife Perfexion
Over the years, Gamma Knife has been refined and improved with advances in engineering radiation physics, robotic controls and computerized treatment planning. Perfexion, the latest version of the technology, exceeds the performance of previous Gamma Knife versions with increased patient comfort and reduced treatment times.
Meet the Gamma Knife Team
Anil Nanda, MD, MPH, FACS, Senior Vice President of Neurosurgical Services, RWJBarnabas Health
Stephen Johnson, MD, Assistant Professor, Department of Neurosurgery
Salma Jabbour, MD, Radiation Oncologist
Rahul R. Parikh, MD, Radiation Oncologist
Joseph P. Weiner, MD, Radiation Oncologist
Anupama Chundury, MD, Radiation Oncologist
Nisha Ohri, MD, Radiation Oncologist
For more information or to find out if Gamma Knife might be a good treatment option for you, please call 732-418-8002.