Home | Services | Pricing | Resource Team | Equipment | Sample Submission Form
Director: Joshua Rabinowitz, MD, PhD
Co-Director: Xiaoyang Su, PhD
The past decade has seen a surge of interest in tumor metabolism, driven by the recognition that oncogenes up-regulate metabolism and that certain metabolites can themselves cause cancer ("oncometabolites"). In 2011 the consortium Cancer Center established a shared resource for Metabolomics, with both the Princeton and New Brunswick sites. This shared resource pushes the frontiers of tumor metabolism measurements and provides Rutgers Cancer Institute members with easy, cost-effective access to these capabilities. The overarching objective is to enable scientific discoveries that significantly impact cancer diagnosis and therapy.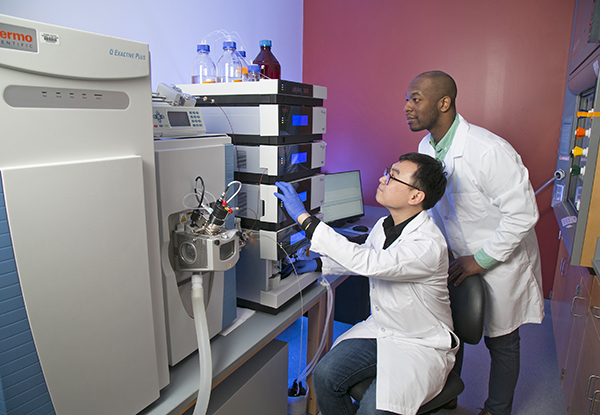 The specific objectives of the Metabolomics shared resource are to:
Provide access to basic metabolism measurement capabilities, such as oxygen uptake by Seahorse analyzer
Provide more advanced services, such as large-scale quantitative metabolite measurement by LC-MS
Develop and collaboratively apply cutting-edge metabolism measurement capabilities including isotope tracing
Engage users at all stages of the metabolomics research process, guiding experimental design, conducting analyses, and assisting users with data analysis.
Enhance scientific interaction and productivity across the consortium
Accelerates research programs towards new diagnostic or therapeutic approaches for cancer
Provide cost-effective pricing and expeditious turnaround times
PUBLICATION ACKNOWLEDGEMENT 
"Services, results and/or products in support of the research project were generated by the Rutgers Cancer Institute of New Jersey Metabolomics Shared Resource, supported, in part, with funding from NCI-CCSG P30CA072720-5923."
Please consider including the names of individuals from the shared resource if they provided any intellectual input or additional effort.
NIH Public Access Policy: Publications that result from services provided by this Shared Resource must be compliant with the NIH Public Access policy by submitting your paper to PubMed Central. Go to: https://publicaccess.nih.gov/submit_process.htm for PubMed Central's submission instructions.  
If you require additional guidance on how to properly acknowledge a single shared resource or multiple shared resources you may contact Janet Bandoy, Shared Resource Coordinator.
Last updated 06/08/2020