Home | Services | Software | Service Request Form

Software used by the Cancer Prevention and Outcomes Data Support (CPODS) Shared Resource includes:
DatStat Discovery and Illume

The Cancer Prevention and Outcomes Data Support Shared Resource has a license for this cloud-based study management and implementation software. It provides advanced participant recruitment and management tools, longitudinal workflow automation, and electronic and online data collection. The secure online portal allows for real-time reporting and data downloads.

RedCap

A secure web platform for building and managing online databases and surveys.

Qualtrics

Web-based survey development software.

SNAP Scanning

Scanning software designed for data capture of paper-based research projects.

ATLAS

Software that supports qualitative and mixed methods research for coding, organization, and analysis of qualitative data.
 
See below for an example project workflow developed by the Cancer Prevention and Outcomes Data Support shared resource. The workflow was created using DatStat Discovery software for a multi-site randomized controlled trial of a behavioral intervention.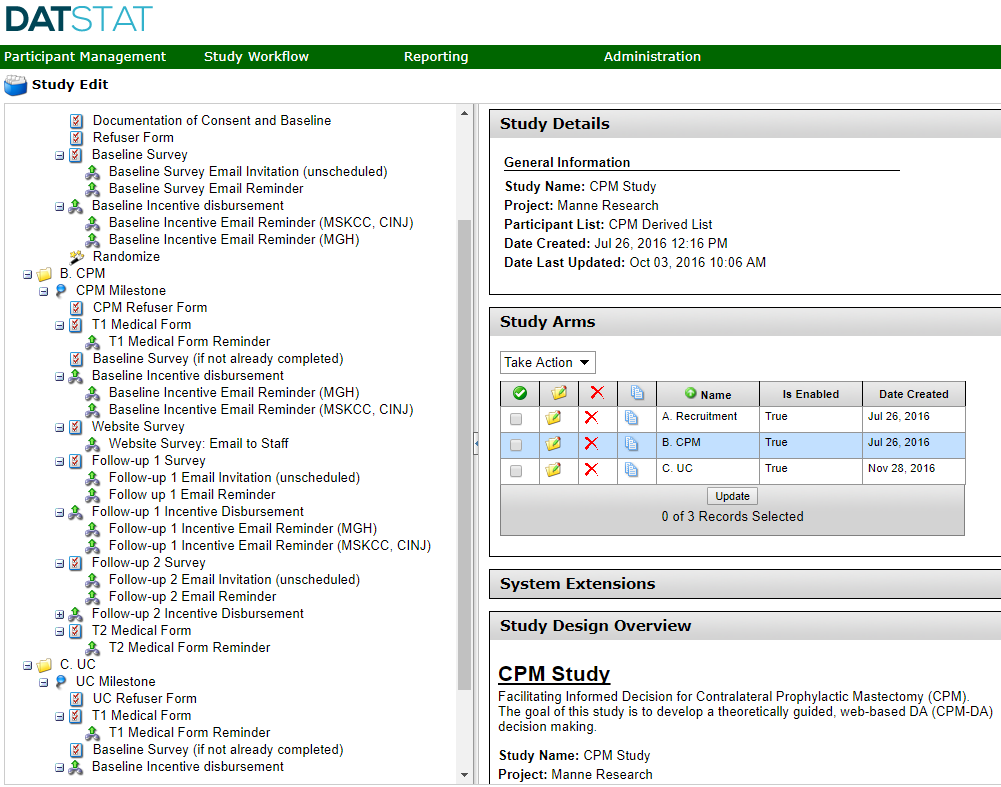 The study workflow is fully automated to allow tracking of eligibility, consenting, baseline survey completion, disbursement of incentives, randomization, and completion of subsequent surveys (with automated emails to study participants; the system can also handle automated text messaging if needed) and study activities. This workflow automation streamlines data capture and improves staff efficiency by automating survey and communication tasks and task tracking, thereby improving overall quality through standardization. The system facilitates tracking of individual research participants as well as the creation of summary reports of overall study progress (e.g., recruitment, completion of study activities, and dropouts). The cloud-based platform can be accessed by project staff across the multiple study sites.
The workflow automation targets four key parameters:
Tasks – what needs to be done? e.g., participant surveys, research staff forms, phone calls, emails, appointments).
Timing – when should it be done? e.g., automated reminder email 5 days and 2 days before a scheduled clinic visit.
Rules – what determines what needs to be done? e.g., if preferred survey mode is "web", then send email, if "phone", schedule call.
Status – what happened? e.g., email was sent, phone call was completed.

Last updated 09/01/2022