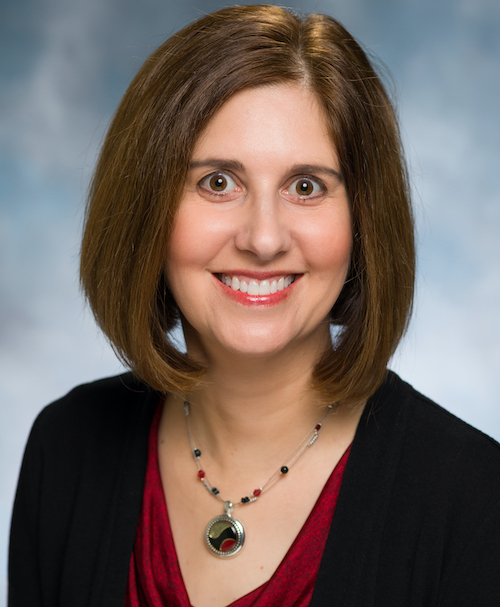 Dr. Heckman is an Associate Professor of Medicine with tenure and is Co-Leader of the Cancer Prevention and Control Program at Rutgers Cancer Institute of New Jersey. She received her BA in psychology from Brown University and PhD in Counseling Psychology from The University of Iowa. She completed a postdoctoral fellowship in health psychology and addictions at Virginia Commonwealth University and is a licensed psychologist.
She has published over 100 peer-reviewed papers and presented numerous times at national and international conferences. She has been funded by the National Cancer Institute including three R01s, an R21, R03, and a K07, as well as having received funding from the American Cancer Society and Pfizer. In addition to her primary research duties, Dr. Heckman has been involved in several activities as a leader. In terms of national service, she is a member of the NIH Community Level Health Promotion study section, and she is on the Editorial Board of the journal Translational Behavioral Medicine.
For four years, she served as the national chair of the Don't Fry Day skin cancer prevention awareness campaign sponsored by the National Council on Skin Cancer Prevention. She spearheaded Rutgers and Temple University's earning the national Indoor Tan-Free Skin Smart Campus Platinum Award. Regarding local service, she is the Founder/Leader of the CINJ Dissemination and Implementation Science Working Group. Additionally, she has served on numerous steering and advisory, grant review, search committee, training, and other committees and served in several community groups.
Grant Review Panels (selected)
International Grant Review Committee Service:
Summer, 2020 Ad Hoc Reviewer. Research Grants Council of Hong Kong

Spring, 2020 
Spring, 2019

Summer, 2018 Ad Hoc Reviewer, Population Research Committee – Project Award, Cancer Research UK
Summer, 2014 Ad Hoc Reviewer, Innovation Grants, Tenovus Cancer Charity, Wales, UK
Fall, 2013 Ad Hoc Reviewer, Health Services & Population Health Research Committee, Chief Scientist Office, Scottish Government Health and Social Care Directorates
2012-2013 Ad Hoc Reviewer, Quality of Life Grant Review Panel, Canadian Cancer Society Research Institute 
National Grant Review Committee Service:
Fall, 2019 – present Member, NIH Community-Level Health Promotion (CLHP) study section
Summer, 2017/18 Ad Hoc Reviewer, NIH Community-Level Health Promotion (CLHP) study

Fall, 2016 section
Spring, 2012 

Spring, 2015 Special Interest Panel Reviewer, SIP 1 – Cancer, CDC National Center for Chronic Disease Prevention & Health Promotion, Health Promotion and Disease Prevention Research Centers.
Fall, 2014 Reviewer. R21s and R03s. National Cancer Institute.
Summer, 2014 Special Interest Panel Reviewer, Panel B1 – Skin Cancer, CDC National Center for Chronic Disease Prevention & Health Promotion, Health Promotion and Disease Prevention Research Centers.
Fall, 2013 Special Emphasis Panel Reviewer, CDC National Center for Chronic Disease Prevention & Health Promotion, Health Promotion and Disease Prevention Research Centers
Fall, 2012 Ad Hoc Reviewer, Agency for Healthcare Research and Quality (AHRQ)
Summer, 2012 Special Emphasis Panel Reviewer, CDC National Center for Chronic Disease Prevention & Health Promotion, Health Promotion and Disease Prevention Research Centers: Special Interest Project Competitive Supplements
Summer, 2012 Ad Hoc Reviewer, NIH Dissemination and Implementation Research in Health
Spring, 2009 (DIRH)
2008-2009 Ad Hoc Reviewer, NIH Community Influences on Health Behavior (CIHB)