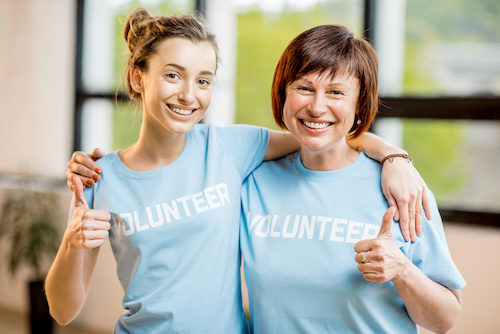 You can make a difference
Volunteering at Rutgers Cancer Institute is more than just providing service; every volunteer impacts the life of a cancer patient and helps to embody our culture of caring.
Our volunteers are :
Compassionate, motivated and committed
Good communicators with the desire to help patients and caregivers
Diverse in age, gender, ethnicity and socio-economic background
Adults or college-age students
Someone who has had a personal or family experience with cancer
Someone who wants to help those going through cancer treatment
Our volunteers:
Greet, escort and provide information to patients and visitors
Serve as "Bling! Angels" or manage a "Comfort Cart"
Run errands/make deliveries throughout the facility
Assist with support services in clinical and non-clinical areas
Provide administrative/clerical support
Assist with special projects
As a volunteer, you become a member of a dedicated team that provides the highest quality patient care services at New Jersey's only National Cancer Institute-designated Comprehensive Cancer Center. Through the generous gift of your time, talent and interests, you supplement the work of staff to offer services to enhance the patient and caregiver experience in a meaningful way.  
Current Volunteer Opportunities:
Patient/family support
Cancer resource navigator
Patient and Family Advisory Council member
Environmental music program 
Reiki program (requires certification)
Pet visitation program (requires certified pet therapy teams)
Art Cart Volunteer (we are looking for volunteers who can knit, crotchet, use watercolors, do bead making, and any similar arts and crafts activities)
Volunteer opportunities at RWJBarnabas Health
Click to visit the Volunteer Application Form
Volunteers are evaluated through an extensive onboarding process. We ask that volunteers commit to at least nine months of weekly, three to four hour shifts of service. 
 
If you are interested in becoming a volunteer at Rutgers Cancer Institute of New Jersey, contact Miriam Sajouste at mjsajous@cinj.rutgers.edu or call 732-235-5442.