The Robert Wood Johnson Advanced Endoscopy Program is one of the nation's leading premier centers for the diagnosis and treatment of gastrointestinal and hepaticobiliary diseases. Our multidisciplinary team integrates expertise, research, and advanced therapies in a truly collaborative approach to individualize and optimize patient care. Our goal is to provide immediate access to the most efficacious and minimally invasive interventions. 
Our team offers a variety of cutting edge diagnostic and therapeutic procedures for patients with hepatobiliary cancers, including: 
Endosocpic Ultrasound 

Diagnostic sampling
Drainage of abscesses
Drainage of biliary tree in patients with unsuccessful ERCP or altered anatomy
Ablation of masses in conjunction with surgical and chemotherapeutic therapies
Gastrojejunal stent placement to relieve obstruction
 

Endoscopic Retrograde Cholangiopancreatography (ERCP) 

Stenting for relief of obstruction
Cholangioscopy and optical coherence tomography for diagnosis, mapping, and targeted tissue sampling
Ablation of malignant strictures to increase patency
We are constantly using new techniques and technologies to improve patient care. We believe that using novel techniques and technologies together amplifies our ability to diagnose and treat complex conditions and provide superior patient care.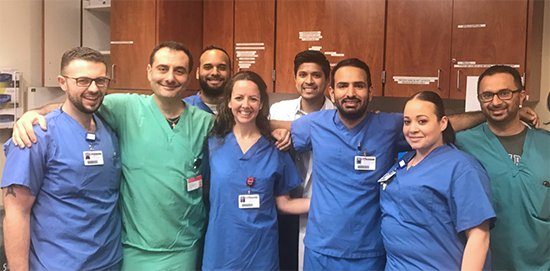 The RWJ Advanced Endoscopy Program Team