Home | Research Accomplishments | Service & Requests | Equipment | Request De-Identified Biospecimens | Biospecimen Inventory Dashboard
Histopathology Services Information
Biorepository Services Information
For project development support, please contact Gregory Riedlinger, MD, PhD, Interim Director.
For histopathology services, please contact Kelly Walton, Histopathology Manager
For biorepository services and information, please contact Joe Rosenberg, Biorepository Manager
For consenting information and other general BRHS SR information, please contact Katie Dwyer, Program Administrator
The BRHS SR will be moving to iLab in early 2023.
The histopathology service has seen significant investment in new equipment that supports Rutgers Cancer Institute scientists
Processing, embedding, cutting, or snap-freezing tissue are supported by a new Sakura tissue processor, embedding center, and automated coverslipper
TMA service is supported by a new CK4600 automated tissue microarrayer
IHC is supported by a new Ventana Discovery Ultra Immunostainer
Routine and Special histology staining
Preparation of tissue slides for Laser Capture Microdissection
Frozen research specimens storage
Microtomy
Cryotomy
Pathologist consultation

Biorepository Services Information 
This service supports specimen procurement, accessioning, processing storage, and distribution via the following two protocols:

The Clinically Annotated Biospecimen Repository (Protocol 001006) allows the prospective consent of patients for the acquisition and distribution of their tissue and blood.
The number of tissues, blood aliquots, and disease sites is available through the Biospecimen Inventory Dashboard. An example of the dashboard information for Rutgers Cancer Institute's priority cancers (Breast, Cervix, Colon, Lung, Melanoma, Prostate) available on (01/08/2023) is shown below: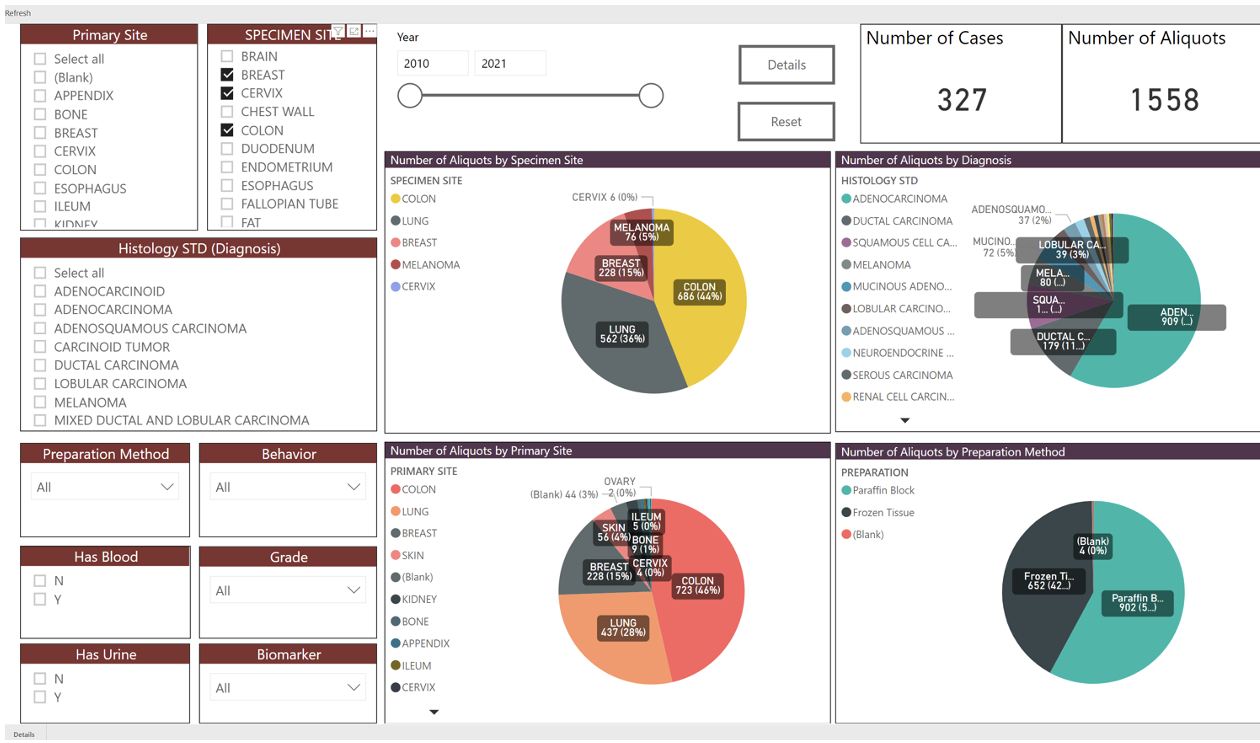 The Anonymized Biospecimen Repository (Protocol 009601) allows for procuring excess tissue specimens from Robert Wood Johnson University Hospital (RWJUH) Pathology grossing room.
Banking is supported by Consent Docents, Pathologist Assistants, and Laboratory Staff.
BRHS labs are near many Rutgers Cancer Institute labs and clinics and within a five-minute walk to the RWJBH, all patient encounter areas, and pathology and procedure rooms. BRHS managers are available for discussions in person, by email, and by phone. The BRHS prioritizes projects based on their impact on patient care, i.e., clinical trial collection, followed by research protocols, and then by general banking. Regular hours of operation are Monday – Friday, 8:30 am to 6:00 pm; tissue collections have a cut-off of 4:30 pm for most banking or research. Collections outside regular lab hours are arranged with advanced notice. Meetings are held before investigator-initiated trial (IIT) start-up to discuss Scientific Review Board (SRB)/IRB-approved protocols, creation of a workflow for specimen collection, submission of budgets, definition of expectations, and determination of oversight. The distribution of samples is recorded in OnCore. The BRHS checks protocols for SRB/IRB approval before releasing any specimens.
Updated 01/18/2023