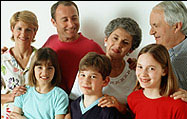 The Rutgers Cancer Institute of New Jersey invites you to participate in our support groups and educational programs for patients, families and friends. These free groups and programs provide a forum to discuss cancer-related issues, while providing a supportive atmosphere where participants may share feelings, questions and concerns with others. Participants can get useful information about community services, share tips on coping skills and find new ways to deal with stress.
Due to COVID-19, all support groups are currently virtual or over the phone. 
 
Breast Cancer Support Group
The Rutgers Cancer Institute of New Jersey sponsors a Breast Cancer Support Group to help improve the education of patients with this disease, provide the opportunity to receive information and to facilitate sharing among breast cancer survivors. The meetings are held on the first and third Monday of the month from 7:00pm - 8:30pm at the Rutgers Cancer Institute. One meeting each month will be an open discussion that is for patients only. The second meeting each month will be focused on a specific topic with invited guest speakers. Patients and support persons may attend these sessions. For more information please contact Deborah Leif, MSW, LCSW at 732-235-7011.

Living with Cancer-Patient and Family Support Group
Living with Cancer is a support group for cancer patients and their caregivers. The goal is to improve education, promote mutual problem solving and facilitate sharing. This support group takes place on the second and fourth Wednesdays of each month from 7:00pm - 8:30pm. For more information please contact Rose Slirzewski at 732-235-6781.
Grupo de Apoyo en Español (Spanish Support Group)
Asista a nuestras discusiones virtuales para conocer a otras personas que enfrentan los mismos problemas. Los grupos son una manera segura donde puedes hablar sobre tus experiencias, dar consejos y apoyar mutuamente. Clique aqui para registrarse 
View flyer (English)
View flyer (Español)
Mindfulness Meditation
Please join us for a virtual Mindfulness Meditation. View flyer
First Friday of every month at 8:00 am for morning meditation
Third Thursday of every month at 5:00 pm for evening meditation
Click on the Zoom:  Morning Meditation  |  Evening Meditation
If you have any questions, please contact the Social Work Department at 732-235-6792. 

Living with Loss
Announcing two virtual support groups for those grieving the death of a loved one due to cancer starting April 2021. On-going groups for adults dealing with the loss of a spouse or partner, family member or friend due to cancer. View flyer
You are invited to attend one of our virtual meetings to gather and share with others coping with loss in the spirit of support, compassion and hope.
Spousal Bereavement Group—2nd Thursday of each month @ 6 PM
General Bereavement Group—4th Friday of each month @ 1 PM 
Please contact the Social Work Department at 732-235-6792 to register.