Home | Research Accomplishments | Service & Requests | Equipment | Request De-Identified Biospecimens | Biospecimen Inventory Dashboard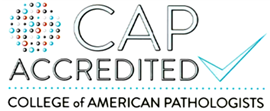 ---
Mission
The primary mission of the BRHS shared resource is to consent, bank, and distribute biospecimens and offer standard and complex tissue analysis and tumor microarrays. It fulfills the basic, translational, and pre-clinical banking and molecular pathology needs of Rutgers Cancer Institute members and is central to Rutgers Cancer Institute's strategic plan. 
The Biorepository is certified by CAP and uses state-of-the-art technologies for tissue analysis and professional interpretation under CAP guidelines. In addition, the Biorepository serves as an "honest broker" and maintains the chain of custody for patient samples and their clinical annotations.
 
Personnel
Gregory Riedlinger, MD, PhD, serves as Interim Director of the BRHS and is board-certified in anatomic and molecular genetic pathology. Riedlinger holds a PhD in cancer biology with extensive experience working with mouse cancer models. He is the Chief of molecular pathology at Rutgers Cancer Institute, leads a weekly precision medicine oncology tumor board, and signs out all molecular oncology cases generated at the Rutgers Robert Wood Johnson University Hospital.
In the last five years, Riedlinger has featured as a regular contributor to many BRHS-supported publications in high IF journals, including Blood (PMC5981171), JAMA Oncol (PMC6439565), J Natl. Cancer Inst (PMC6658862), and Nature (PMC9436779).
Zhongren (David) Zhou, MD, serves as co-Director and is board-certified in anatomic and clinical pathology and cytopathology. He is the PI on the BRHS banking protocols and oversees the biobanking of samples at the BRHS.
Marina Chekmareva, MD, is the lead BRHS histopathologist and provides routine QC, optimization oversight, and consultation to investigators for immunohistochemistry (IHC) and tissue microarray (TMA) construction.
Kelly Walton serves as the histopathology service manager for IHC, TMA, histology, and tissue operations.
Joseph Rosenberg serves as the biorepository service manager for general biospecimen collection, banking, processing, storage, and distribution.
Katie Dwyer provides administrative oversight of biorepository infrastructure, consenting to banking and research protocols, business collaborations, and the CAP certification.
PUBLICATION ACKNOWLEDGEMENT 
"Services, results, and/or products in support of the research project were generated by the Rutgers Cancer Institute of New Jersey Biospecimen Repository and Histopathology Service Shared Resource, supported, in part, with funding from NCI-CCSG P30CA072720-5919."
Please consider including the names of individuals from the shared resource if they provided any intellectual input or additional effort.
NIH Public Access Policy: Publications that result from services provided by this Shared Resource must be compliant with the NIH Public Access policy by submitting your paper to PubMed Central. Go to: https://publicaccess.nih.gov/submit_process.htm for PubMed Central's submission methods instructions.  
If you require additional guidance on how to properly acknowledge a single shared resource or multiple shared resources, you may contact Janet Bandoy, Shared Resources Coordinator.
Last updated 02/01/2023