Oncology nursing is a unique specialty that requires specific knowledge of the biological and psychosocial dimensions of cancer and its effects on individuals and families. At Rutgers Cancer Institute of New Jersey nurses serve as critical members of the multidisciplinary healthcare teams providing exceptional care to our patients. They serve in direct patient care, clinical research, patient education, nursing education, and advanced practice roles. 
The practice of nursing at Rutgers Cancer Institute emanates from the most current evidence and standards of oncology nursing practice. These standards are based on core values that include a scientific basis for practice, knowledgeable caring, integrity, innovation and creativity, professionalism and leadership. 
As an academic medical center and an NCI-designated Comprehensive Cancer Center, our nurses are provided with an opportunity to participate in local, national and international meetings throughout the year.  They are regular presenters at the Oncology Nursing Society Annual Congress and share their knowledge and best practices with colleagues around the globe.
There are several types of nurses at Rutgers Cancer Institute. These include oncology treatment nurses, advanced practice nurses, research nurse clinicians, oncology nurse navigators, and oncology education specialists.
Nursing Spotlight
Carolyn Hayes, PhD, speaks with 101.5 Listen here
In this episode of "The Vitals," Sri Kota, MSN, BA, RN, OCN, reflects on nurse-specific takeaways from SABCS 2021, exciting changes in the breast cancer space, and the importance of patient education in the face of new regimens. Listen here
As biosimilars continue to be approved for cancer-specific agents, the role of the oncology nurse in implementing and educating patients about their use becomes more pronounced, according to Kellie Zeichner, RN, BSN, OCN. Read more
Dorothy N. Pierce, DNP, NP-C, CRN, CBCN, a nurse practitioner in the Department of Radiation Oncology at Rutgers Cancer Institute of New Jersey, highlights the role of advanced practice nurses (APNs) in providing supportive care for patients experiencing radiation proctitis. Read more
Nursing Education
Evolving needs and changing trends in the clinical and research arenas create a dynamic environment where continuing nursing education and training are essential to ensure the ongoing competency of nurses. At Rutgers Cancer Institute of New Jersey, oncology nursing education specialists have developed an easily accessible education and training resource to support the development, maintenance and enhancement of competent, patient centered, evidence-based practice and its translation to exemplary patient care. Read more here
Nursing Jobs
Rutgers Cancer Institute offers a wide variety of opportunities for nurses. Read more about the different positions below.
The Advanced Practice Nurse participates in a collegial relationship with the physicians, nurses and other health care professionals. This position performs in an expanded nursing role by providing primary care to patients, which includes taking histories, making assessments, ordering lab tests, reviewing and reporting diagnostic lab values.
In accordance with professional nursing standards, the Staff Nurse skillfully administers total patient care based on the individualized needs of assigned patients and families.
The primary purpose of the Nurse Clinician (Treatment) position is to provide direct care to a specified group of patients in the ambulatory setting. The Nurse Clinician works collaboratively with all members of the health care team to ensure patients receive efficient, safe and high quality care. The scope of the position is defined by the Nurse Practice Act of the State of New Jersey and the standard Operating Procedures set forth by the Cancer Institute of New Jersey.
The Nurse Clinician (Clinic) provides clinical coordination and ensures continuity of care to a specified group of patients in the ambulatory setting. In collaboration with other members of the Unit, is responsible for ensuring that high quality, comprehensive services are delivered to patients. The scope of the position is defined by the Nurse Practice Act of the State of New Jersey, and the Standard Operating Procedures set forth by the Cancer Institute of New Jersey.
The primary purpose of the Research Nurse Clinician (RNC) is to ensure successful, patient-oriented, safe and effective conduct of clinical trials at Rutgers Cancer Institute of New Jersey. The Research Nurse Clinician assists investigators to prepare and implement new clinical trials, screens and enrolls study participants, and provides protocol-related clinical management to those participants while on study. Serves as a resource to other Cancer Institute faculty and staff on available protocols, and general research topics such as FDA, IRB and GCP regulations.
A nurse navigator is a health care professional whose clinical expertise and training guides patients and their caregivers to make informed decisions, collaborates with a multidisciplinary team to allow for timely cancer diagnosis, and treatment, and provides increased supportive care throughout their cancer journey.
A radiation oncology clinical coordinator participates in all assigned patient care activities with the attending physician and coordinates the delivery of care. They assist in communications with patients, triaging patients and patient issues, symptom management, and teaching patients regarding their disease, process and treatment, and are responsible for evaluating, planning and delivering nursing care to meet individualized patient needs. They also collaborate with the care team, utilizing clinical outcome data to support the innovative and cost-effective changes to practice and the service line, and improving patient flow by reducing the time the patient waits in clinic.
Nursing Scholarship
Click to enlarge the images below to view educational posters from our events.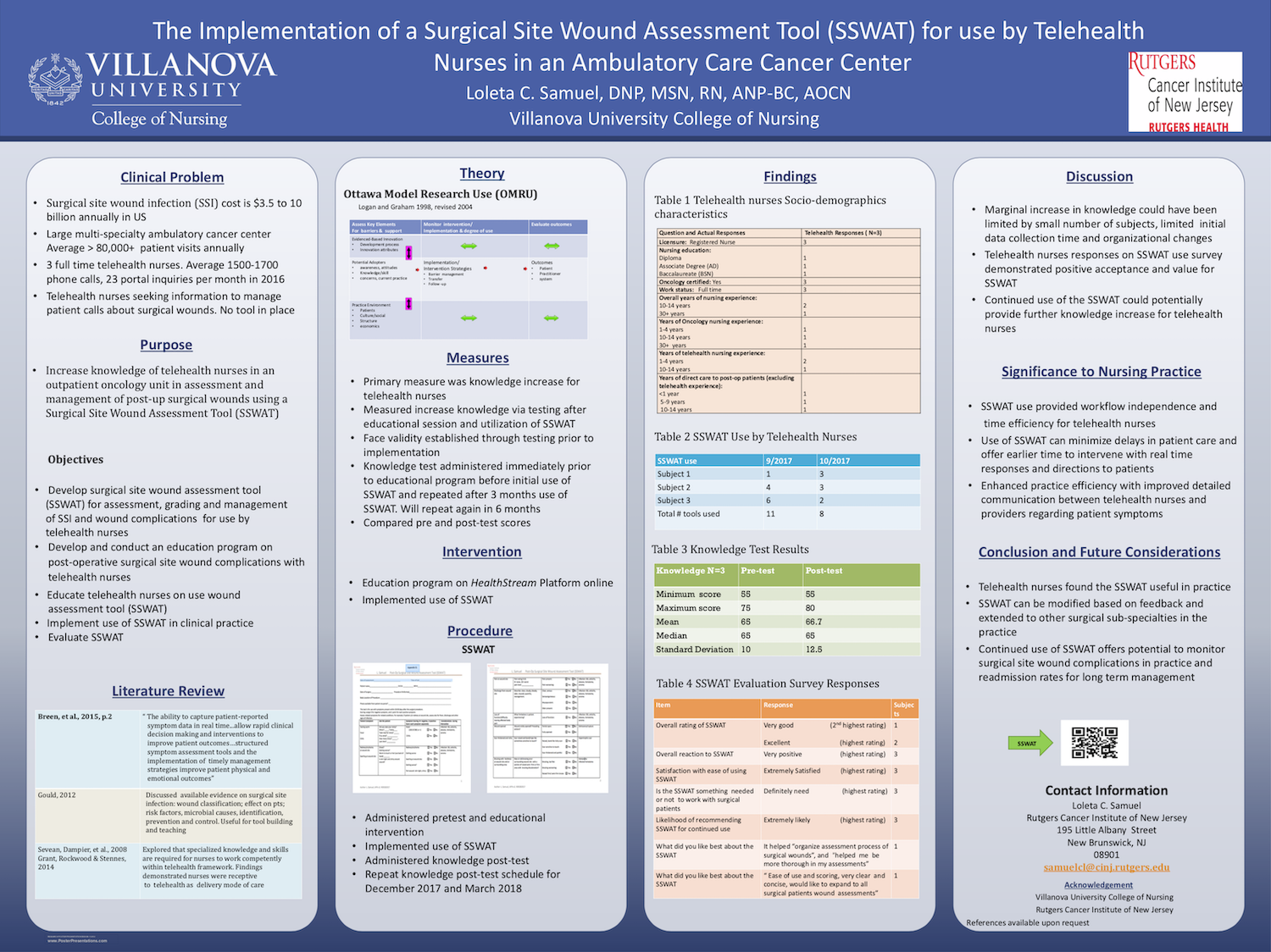 The Implementation of a Surgical Site Wound Assessment Tool (SSWAT) for use by Telehealth Nurses in an Ambulatory Care Cancer Center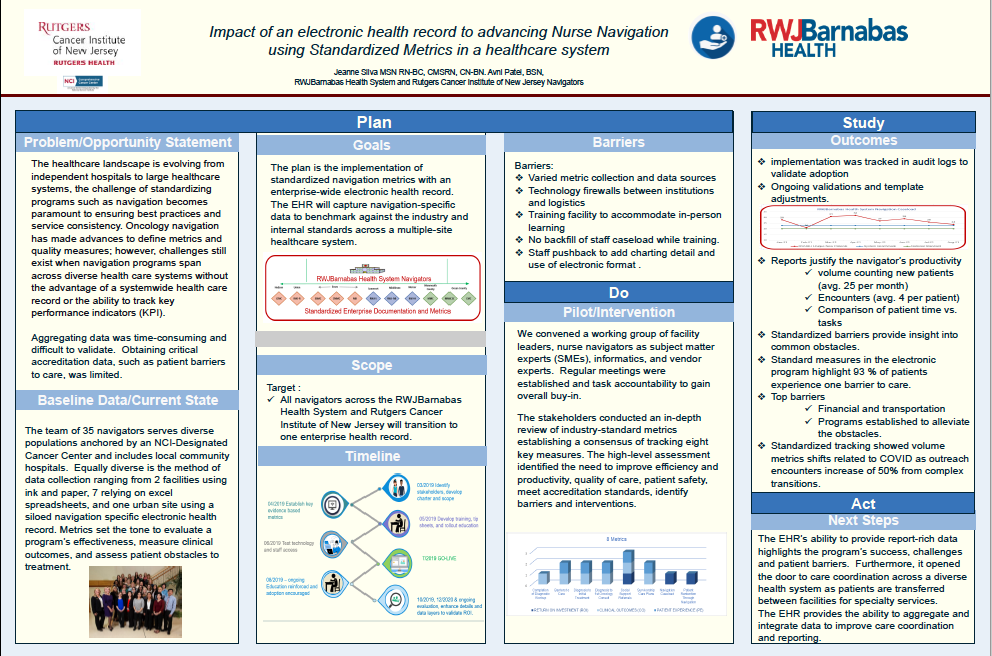 Impact of an Electronic Health Record to Advancing Nurse Navigation Using Standardized Metrics in a Healthcare System
Navigating Care Transitions to Improve Efficiency from an Inpatient Cancer Diagnosis to the Outpatient Treatment Setting

Integrative Nursing
Integrative nursing is a way of being-knowing-doing that advances the health and wellbeing of persons, families, and communities through caring/healing relationships. Integrative nurses use evidence to inform traditional and emerging interventions that support whole person/whole systems healing. - Mary S. Koithan, PhD, RN, CNS-BC, FAAN
Resources:
https://greaterbostonnursing.org/about-greater-boston-nursing-collective/
https://www.ahna.org/
https://www.cancersupportcnj.org/
Nursing Residency 
Coming soon!
From Our Patients
"...these amazing Nurses and PCTs. They always smile, very polite, humble, quick on their feet, great with IV sticks, listen attentively. They will always make a little bit of time to treat their patients like a human being and not just a number." - Ursa
"Such a great dedicated group of nurses <3" – Maryellen 
"The Oncology Nurses are awesome." – Debra 
"So grateful for every oncology nurse at CINJ. I have been going there for 3 years and every one is awesome." – Danielle
"Will always be grateful for the nursing staff who were such a help to me at CINJ." - Mary
"Best nurses :)" - Bushra