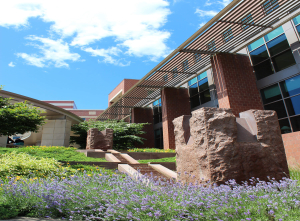 Rutgers Cancer Institute of New Jersey together with RWJBarnabas Health is one of an elite group of comprehensive cancer centers in the U.S. designated by the National Cancer Institute and the only one in the state of New Jersey. This coveted designation gives Rutgers Cancer Institute the distinction of being among the best cancer research institutions in the nation.
---
Rutgers Cancer Institute is also New Jersey's leading cancer program as recognized by U.S. News and World Report's Best Hospital rankings.
Rutgers Cancer Institute is committed to providing the most advanced, comprehensive, and compassionate cancer care to adults and children. Our dedication to excellence is fueled by the cutting-edge research led by our internationally recognized clinicians and researchers who, in partnership with RWJBarnabas Health, work tirelessly to move laboratory discoveries into clinical practice. Their discoveries in precision medicine, immunotherapy, cancer genomics, and other scientific areas are producing high-impact clinical trials that enable us to deliver the most sophisticated treatment plans to our patients today, and lay the groundwork for breakthrough cancer treatments of the future.
---
Importance of the NCI's Comprehensive Cancer Center Designation
The National Cancer Institute's Comprehensive Cancer Center designation is competitively awarded to an elite group of centers characterized by their scientific leadership, resources, and outstanding track record of research discoveries in basic, clinical, and population-based science. Designated centers must meet rigorous criteria in the areas of clinical care, research, prevention, and education, as well as demonstrate a substantial transdisciplinary approach that integrates each discipline-specific scientific area into one coordinated and comprehensive effort in the fight against cancer.
Rutgers Cancer Institute is also recognized by the NCI as a consortium cancer center in collaboration with Princeton University. This NCI-approved partnership brings together the research and scientific innovation of the top cancer researchers, scientists, and clinicians in the state of New Jersey.
---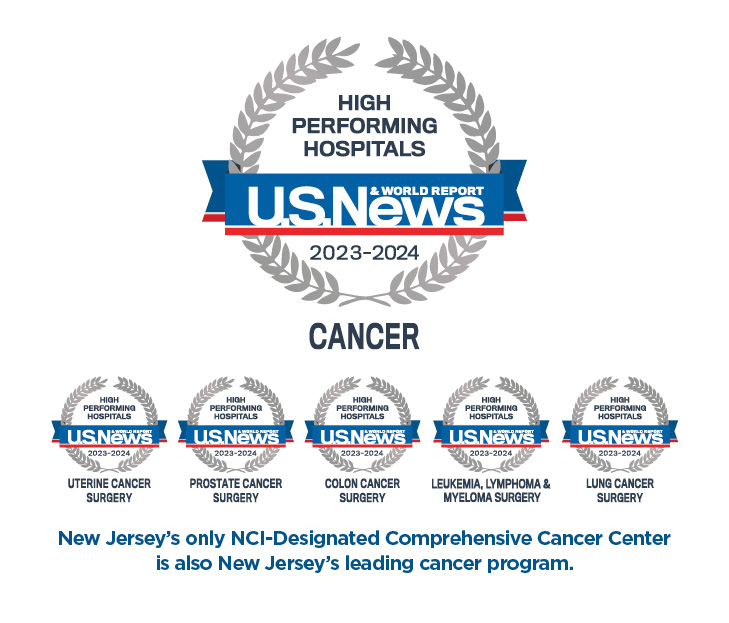 Our Commitment to Excellence
Researchers at Rutgers Cancer Institute have made significant contributions toward decreasing national cancer incidence rates and improving outcomes for cancer patients. We focus on interdisciplinary research programs, which are led by and comprised of nearly 250 faculty members who receive more than $100 million in federal, state, and philanthropic grant support and have access to state-of-the-art technologies.
Rutgers Cancer Institute is part of Rutgers Health, New Jersey's largest and leading academic health care system. Rutgers Health connects health care providers across multiple disciplines and specialties, creating a nexus of world-class doctors and researchers focused on discovering and delivering new ways to prevent and treat cancer.
Our Mission 
Rutgers Cancer Institute of New Jersey's mission is to: 
Accelerate scientific discovery by increasing our knowledge and understanding of cancer;  

Facilitate cancer research aimed at innovating cancer treatment and improving cancer prevention; 

Provide outstanding, novel, and compassionate cancer care;  

Educate physicians, nurses, researchers, staff, and members of the community with evidence-based and culturally informed cancer education and;  

Achieve cancer health equity in our state through outreach and engagement with our extraordinarily diverse communities.
Our Vision 
Advance cancer research. Through our scientific rigor and evidence-based programs, we will advance cancer-focused research worldwide and reduce the burden of cancer in our catchment area.  
Expand access to compassionate cancer care. Through our connection to and respect for the people of the communities we serve, we will gain and protect their trust, strengthen their sense of connectedness, and provide access to kind and compassionate oncology care each person deserves. 
Engender hope. By engaging with and empowering our exceptionally diverse populations, answering their questions, and addressing their fears, we will engender hope for cancer patients, caregivers, and their families.  
---